Cypress Hills seeing cooperation with its visitors
Posted on February 3, 2021 by 40 Mile Commentator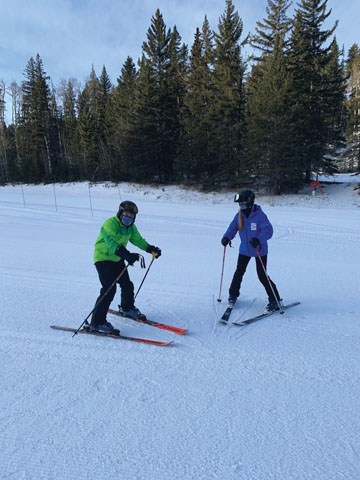 Photo submitted by Alberta Environment and Parks ENJOYING THE HILL: A couple of young unidentified skiers enjoying the slopes at Hidden Valley Ski Resort recently.
By Justin Seward
Commentator/Courier
The Cypress Hills Interprovincial Park has seen positive results so far with visitors who have been taking advantage of the outdoor winter activities.
Alberta Environment and Parks recognized the efforts of the Hidden Valley Ski Resort's staff for keeping operations safe.
"By being flexible in the way they offer services and adapting quickly has been a key part of the operation, and the Alberta government recognizes the efforts of the staff for doing so," said an AEP spokesperson.
AEP says that visitors to the hill have been supportive and collaborative during these times.
"There are always periods of adaptation required when a change in policies mean new behaviors have to be followed, and occasionally a gentle reminder has been required to make sure every visitor is aware of the current guidelines in place at the time of their visit," said AEP.
"The ski hill also monitors on a daily basis to ensure the comfort, safety and well-being of visitors and staff."
COVID-19 protocols currently in place at the ski hill include face coverings being mandatory in public places, lift lines and buildings at the resort.
AEP recommends that skiers use their vehicles as lockers and change rooms and masks are used immediately when they leave their cars.
"Visitors will find the ski resort has capacity limits in buildings, and some possibly longer waiting times for rentals," AEP said.
" Private lessons that last one hour have a limit of three members from (the) same household are still offered. Lift tickets are required to be booked in advance and online to support contact tracing. Walk up tickets are not currently available."
The ski resort has a capacity of 500 people a day and has been booked every weekend.
AEP says people have been very diligent and are booking two weeks in advance.
The resort is closed Monday and Tuesdays.
Meanwhile, the Cypress Hill Interprovincial Park, where the ski hill is located, has remained busy with people who are looking for more outdoor opportunities.
"Cypress Hills has been busy with a lot of visitors looking for outdoor recreational opportunities to relax, get outside and enjoy the great weather the province has had so far this winter," said AEP.
"As an important winter destination for south eastern Alberta over the past ten years, Cypress Hills has increased its winter recreational opportunities to the public thanks to the great efforts of park staff."
A snow base was built early this year and has allowed those who enjoy activities such as cross-country skiing, snow shoeing and the skiing/snowboarding enthusiasts to enjoy what the park has to offer.
AEP said the park has noted an increased number of people gathering at trail heads—sometimes parking down the road— which used to be a Christmas break-only occurrence, which indicates more recreation.
The Cypress Hills Visitors Centre staff have reported that tourists are asking about different trails to explore after completing the other paths available.
"Staff has been impressed by the level of cooperation by visitors," said AEP.
"People have been understanding and respectful of COVID-19 policies, such as social distancing and masking. The pandemic has reinforced the importance of Cypress Hills providing valuable outdoor winter opportunities for Albertans like ski trails, toboggan runs and skating trails."
A number of visitors also have been able to enjoy campfires in the campground.