Foremost Historical Society lands permanent home
Posted on February 3, 2021 by 40 Mile Commentator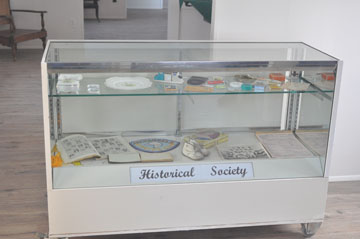 Commentator /Courier Photos by Justin Seward The Foremost Historical Society has started to gather several historical items from the Village's past that will be on display for the public soon.
By Justin Seward
Commentator/Courier
The Foremost Historical Society has found their permanent home after sharing with the Village's Seniors Centre for a few years.
The Society had been looking for a location for several years and was able to purchase the property at 106 First Avenue E back in November—which is located behind the tourism booth in Foremost—with a generous donation from the MacKenzie family.
"I was excited when this property came available because it is in a perfect location beside the tourist booth and across from the Library/Seniors' complex," said Daphne Johnson, Historical Society president.
"The inside is now finished and the outdoor areas will be revamped and repaired in the spring. COVID-19 has certainly slowed us down, but the property has much potential with lots of space to develop and expand."
Johnson's husband, Gord, has volunteered to do the renovation work.
"Foremost people are very generous with their time and talents and we anticipate valuable support from the community," said Johnson.
"We look forward to partnering with the Village, Chamber and school to create a learning and cultural environment for local citizens and tourists."
The items on display will create a "trip down memory lane" for some and a new understanding of Foremost history for others, added Johnson.
"We are very lucky to have guidance and advice from June Mitzel, the retired curator of the Etzikom Museum. Her support and encouragement have already been invaluable," said Johnson.
The Foremost Historical Society are looking for old historical items from the village including from the Tractor Pulling club, old hockey teams, baseball memorabilia and businesses to name a few.
The group started in 2010 with the purpose to persevere and promote the history in Foremost.
The first project that was taken on was to publish a second edition of the Society's history book "Shortgrass Country" in 2013.
In the same year, the Society identified Centennial homes and businesses in Foremost and created a horse and buggy tour.
Activities such as bus tours of area cemeteries, a restored school and the MacKenzie Buffalo Ranch are hosted in normal years.
A spring project that has been put on hold is the creation of a Foremost cemetery map for the purpose of updating records and making more information available to the public.