MHC launches mental health supports video series
Posted on February 3, 2021 by 40 Mile Commentator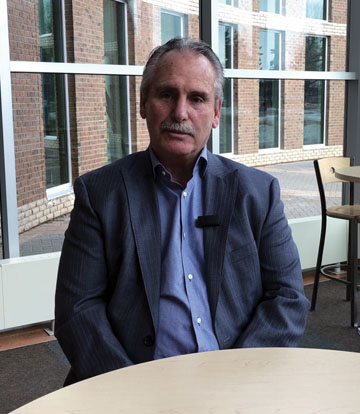 Photo submitted by Jennifer Kerslake MENTAL HEALTH IMPORTANCE IN SPORTS: Medicine Hat Tigers head coach Willie Desjardins kicked off the mental health supports video series last week at Medicine Hat College.
By Justin Seward
Commentator/Courier
Medicine Hat College (MHC) launched a video series on mental health supports on Jan. 27.
The video series was made possible thanks to the generous donation by the Niwa family back in November as a part of the Beej Project in memory of Brandon Niwa who died of suicide back in May 2020.
The committee that spearheads the initiatives is made up of MHC, Medicine Hat Public School Division, Prairie Rose School Division, Medicine Hat Catholic Board of Education and Medicine Hat Police Service.
"We thought it was important to educate the region on multiple areas around mental health," said Jennifer Kerslake, MHC's director of community engagement.
"This video series we thought was a wonderful way to connect and it'll be up on the College's You Tube channel. So it'll stay there forever and always so people can access this education continually and it really is intended for everybody"
Medicine Hat Tigers head coach Willie Desjardins kicked off the series by talking about mental health in sport.
"It was a wonderful gift," said Kerslake on Desjardins starting off the series.
"I actually don't think most people know, but Willie has a masters in social work and also a degree in education. He's got many talents and one of those is coaching. But it's really just with that educational background— it really sets a beautiful tone for the players that he's coached throughout his career— and how it's just this human connection that is more important than just the skill set that each athlete would bring. His whole video is around leadership and the importance of recognizing that you are coaching and leading humans."
Other topics will include ADHD, trauma, eating disorders, MHPS Insp. Brent Secondiak speaking about the impact around law enforcement and the Women's Shelter executive director connecting mental health to domestic violence.
"Part of the intent of the project was to partner with grassroots professionals," she said.
"So psychologists, physicians and law enforcement representatives all from southeastern Alberta—so we can have that community connection."
Kerslake said there will be a video every two weeks until the end of June.
Promotional videos of the speaker will be posted on the committee members' social media pages a couple days prior to the session.
Feedback can be provided to each speaker on the video itself or by emailing communityconnection@mhc.ab.ca.