Cypress County to open Welcome Centre
Posted on February 9, 2021 by 40 Mile Commentator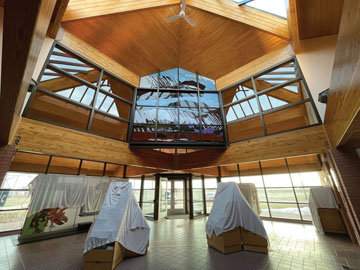 Submitted Photo
By Justin Seward
Commentator/Courier
Cypress County will be keeping the doors open at the now former Walsh Visitors Information Centre under a new name starting this May.
The Cypress County Welcome Centre will be opened after the province decided in early 2020 to not operate the Visitors Information Centre in the hamlet.
The Centre attracts 20,000 visitors a year from May to September.
"That's a lot of people coming through and a lot of people we can make an impact on to hopefully get them to go down to Elkwater or go to Irvine or use one of the campgrounds in the county (and) use it to promote what we have in our community," said Tracey Popick, Cypress County's communications coordinator.
Locals or visitors can go to the Centre to find out about a little bit of the history about Cypress County, added Popick.
The County will be providing assistant to local businesses who want to advertise in the Centre with creating social media pages and accounts.
Letters have been sent out to businesses that have permits in the county.
"It's a place they can advertise their business," she said.
Popick said Cypress County wants to do something for the region.
"There are some amazing hidden gems in the County and in the region in general," said Popick.
"We want to give those people the opportunity to be seen by more visitors."
The County is looking for pamphlets, leaflets, posters and artisans' artwork to display or to sell in the Centre.
"When people come across the border, there's not a lot in Saskatchewan, when they're coming this way," she said.
"I don't think there's a visitor centre for a while. It's the first place they've stopped in a while and it gives them an opportunity to divert off the highway immediately versus the next visitors centre would be in Medicine Hat."
The Welcome Centre will be open from May to September on a one-year lease.
A Cypress County Welcome Centre Facebook and Instagram account have been created.
Interested businesses or artisans can contact Popick at (403) 526-2888 or tracey.popick@cypress.ab.ca for more information.