Redcliff Bakery expands to a third location
Posted on February 16, 2021 by 40 Mile Commentator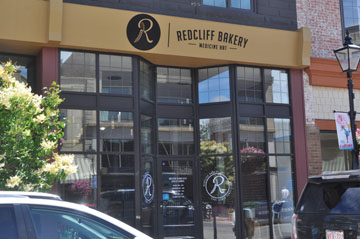 By Justin Seward
Commentator/Courier
The Redcliff Bakery is expanding yet again with its second location in Medicine Hat.After Joel and Melissa Graber purchased the original bakery location in Redcliff in December 2017, the Bakery owners successfully expanded to a second location in downtown Medicine Hat this past summer and on Feb. 2 announced a third location also in the Gas City at 924 16 Street SW in the light industrial area.
"We decided to go ahead with a third location, but that also posed a bit of an issue for us because our production facility is what we've outgrown in Redcliff," said Melissa.
"What we decided to do is split our production and have half of it in Redcliff and half of it moved to Medicine Hat so that we can handle the increased production of a third location."
The cake and pastry department will be moved to the third location while the bread and donuts will stay in Redcliff.
"We're going to sell all of our products from there too, but just the production part of it is going to be cake and pastry," she said.
Melissa said the Redcliff Bakery has had really great success downtown and with the size of Medicine Hat that the city would be able to handle a second location in a different area of town.
"There (are) not a whole lot of options in that area of town even for lunches, for breakfast and that sort of thing," said Melissa on the location choice.
"As well as we needed a pretty large footprint for square footage in order to have our production facility. So in more of (an) industrial area worked better for us because we needed to find a place that essentially had a bay in the back that we could transport in and out of."
The third location will be opened in the spring.
People can apply for front counter positions at the new location through emailing their resume to assistant@redcliffbakery.com.