'Queen of the Cowdogs' tells the story of life on the ranch
Posted on February 23, 2021 by 40 Mile Commentator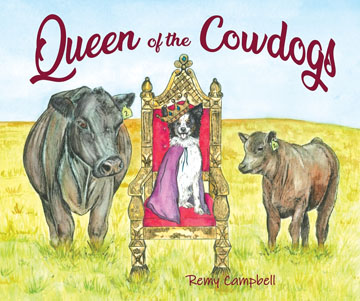 By Justin Seward
Commentator/Courier
Remy Campbell's enjoyment of writing has led her to publish her first children's book.
"Queen of the Cowdogs" is based on Campbell's main work dog Jess— a four-year-old Border Collie—who Campbell describes as "pretty handy" around livestock.
"I wrote from her view that she is the cowboy or the rancher," said Campbell.
"… It's based on a calf gone missing and Jess is in charge and she had to find it before anything bad happens kind of thing."
Campbell said, "She's kind of the queen around here too with the other dogs. She's the boss, she's the main one in charge."
The book idea stemmed from Campbell reading many children's books to her two young daughters ,Cassidy and McKenna, and the realization she had that there were not a lot of agricultural stories published on what life is like on the ranch.
She said she wanted to incorporate her paintings and illustrations because she had been doing painting for a few years.
The book is meant for kids in the ages 4 to 8 range.
"I think it's a happy tale with a little bit of adventure in there, and what's going to happen and it has a good ending," said Campbell.
"I made it for the ranch kids that already love the lifestyle—something they can relate too. I think a lot of ranch kids would relate to it. But it's also for the city, town kids who don't know much about ranching that love that idea, little kids that love cowboys or any kid that loves animals. I think they can follow Jess's adventure and hope it has a happy ending, which it does."
Campbell initially wrote the story in December 2019,
"I had the story in my mind and I wrote it all out, and it was right before Christmas," she said.
"And then I guess I just put it aside and I didn't think it was good or (at the time I got busy). It took me awhile to realize this could maybe be a neat story. I changed a lot when I first wrote it—it didn't rhyme—and now it's a rhyming story. I went back and changed a little and I decided to do the pictures and I was like 'Yeah, I think this will work.'"
"Queen of the Cowdogs" will be available in March for $15.
Orders will be taken by contacting Campbell at (403) 839-2180.
Ranching, dog and book updates can also be found on the cypress.crown Instagram page.
Campbell and husband Andrew run the Drowning Grazing Co-op north of Dunmore.