County councillor feels there is a lack of accountability and transparency in meetings
Posted on March 3, 2021 by 40 Mile Commentator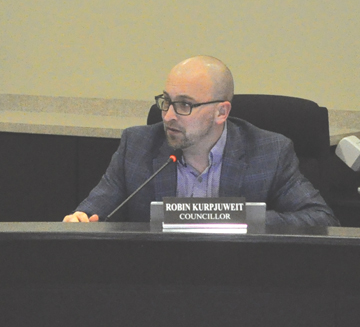 Commentator/Courier File Photo Coun. Robin Kurpjuweit.
By Justin Seward
Commentator/Courier
It was at the Feb. 17 Cypress County council meeting where councillors voted for administration
to come back to the next meeting with recommended amendments to bylaws or policies to allow for video recordings to be posted to the County's YouTube channel.
The motion came from Coun. Robin Kurpjuweit after he felt the municipality is lacking transparency and accountability.
"With elections around the corner, residents want to know who they are voting for and what they have stood for in the past," said Kurpjuweit.
"Currently, this is very hard to gauge as meetings are held during work hours and votes are private. We truly have a system that lacks transparency and accountability."
The county currently records votes upon request and is often perceived as a negative thing or an attempt to grandstand, says Kurpjuweit.
"Accountability shouldn't be selective, it should be (a) common place," said Kurpjuweit.
He would like to see recorded votes as standard, as he feels this would not only allow councillors the opportunity to stand behind their decisions but provide residents with the opportunity to follow their councillors vote recording moving forward.
As for transparency delivery, Kurpjuweit pointed out that meetings are held during the day and during work hours, in which it is not allowing many county residents to watch meetings live.
"Our minutes are the only document that we have that gives residents an idea of the decisions that we make but doesn't allow them to understand the discussion that went into making these decisions," he said.
"Often times these discussions explain the reasons and rationale that we should be conveying to County residents so that they can all understand why we are making the decisions that we are making and going in the direction that we are going."
Cypress County did start streaming live council meetings in mid-2020 as a part of COVID-19 protocols.
The meeting were posted online for a short time.
"When I inquired about this I was told it was because we didn't have it in our bylaws to post video after they were live streamed," he said.
Council defeated Kurpjuweit's first motion to record all votes moving forward and including in the council meeting minutes.