Irvine Peace United Church to plant a Community Memorial Tree
Posted on March 9, 2021 by 40 Mile Commentator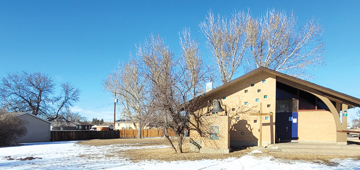 Photo submitted by Lou Wanda Whaley The Irvine Peace United Church has began the process for the Community Memorial Tree initiative
By Justin Seward
Commentator/Courier
The Irvine Peace United Church is in the beginning stages of starting fundraising efforts to put a Community Memorial Tree on the property.
A Memorial Tree is seen as a lasting symbol of life and is sometimes personalized in memory of the deceased.
The Tree will allow for family and friends a place to visit and feel that sense of closeness to the person who passed away.
"There was a comment or so made about a suggestion for it," said Beth Noble, the Church's secretary.
"I think we just really want to have more of a community presence. The Church (wants) to show the community that we're there for them. We just thought this would be a lovely way to bring the community in as a token of community spirit."
Noble says there's been deaths within the families of the congregation and people have been suffering.
"So having a Memorial Tree, (and) doing something at Christmas would be wonderful," she said.
"But it would represent kind of a Memorial Tree all year. We would try to have some seeding available there too and make it a nice, pleasant place to just sit and enjoy."
The funds raised will go towards the water and electrical work of the project and the purchasing, planting and lights of the tree as well as seating and other items needed for the families to enjoy the area year-round.
The board is hoping to plant a spruce tree in the tree for the best chance of survival.
The tree will be planted on the church property and maintained by volunteers and church members.
The church's principal for the Irvine Community Memorial Tree is to host a decorating event at the beginning of December every year, where the community will have the opportunity to add ornaments to the tree to remembers those people who have passed.
Noble said, "We'd have a nice lit Nativity scene to make it a Christmas spirit type of thing."
"That'd be our special highlight of the year, when we would definitely make the most for it."
Donations for the project will be accepted by mail at:
Irvine United Peace Church (clearly stating the funds are for the Community Memorial Tree), PO Box 315, Irvine, Alta., T0J 1V0 and in person on every second or fourth Sunday of the month before or after the church service.
More information can be found by contacting Noble at (403) 502-9413 or by messaging the Irvine Peace United Church Facebook page.
The Irvine Hotel will be hosting a Memorial Tree fundraiser on April 30 from 5 p.m. to 8:30 p.m.
The steak dinner will be $21 and includes a bake potato and caeser salad and a $5 donation to the community memorial fund and matched by the Irvine Hotel?which will total $10 per plate.
A donation bin will be available for the Community Memorial Tree.