Western Tractor experiences no significant impact during pandemic
Posted on March 17, 2021 by 40 Mile Commentator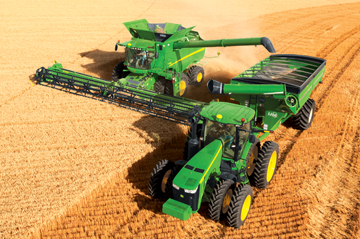 By Justin Seward
Commentator/Courier
Western Tractor has been able to navigate the COVID-19 pandemic without any significant impacts on delivering the John Deere brand to its customers.
The Southern Alberta John Deere dealer had its corporate meeting last month and attendees all looked back at 2020.
"We weren't quite sure what to make of all of this because obviously this was unprecedented for all of us," said Steven Dyck, Western Tractor president.
"We started crafting alternative budgets and trying to figure out well what if business dropped off 20, 30 per cent, how would we manage through that eye of the needle. But I'm happy to say over the course of the last 12 months, the agriculture industry itself has come out of this I think fairly strong and better shape than we ever could imagine."
The agriculture industry was coming off three years of draught-like conditions in terms of precipitation, said Dyck.
"That in itself was seeing a lot our producers maybe pushing off the purchase of the new piece of equipment or spending less on their after-market requirements and really just kind of holding back, wishing there was a good solid crop in the ground and a good solid crop in the bin," said Dyck.
"I think last year that really did come together. We had I think great growing conditions going into June and decent moisture—timely rains— as well as the temperature wasn't getting extremely hot which allowed a lot of these crops to flower properly and head out properly."
Dyck says on the heels of that, that is when producers also seen commodity prices see some gains for a change.
"We're looking at current pricing for canola, barley, wheat and any other crops that we grow starting to hit some pretty amazing numbers," he said.
Looking ahead to 2022, "There is contract pricing that is exceptionally attractive for our producers," said Dyck.
Western Tractor are making sure they are there for their customers during the pandemic and not downsize their business operations when the customers need them the most.
Dyck said Western Tractor made some pivots in terms of adjusting their business model and find ways to do things more digitally.
"But that's something we've been working on for the last number of years and just being able to deal with our customers remotely," he said.
Equipment might be a bit of issue in terms of supply moving forward because of the components that goes into the build of those pieces of equipment.
"Some of that supply chain has been disrupted," he said.
"We're dealing with later deliveries than normal. We're dealing with parts availability issues, probably more so now than we did through 2020."
The electronic components is going to cause the company stress and delays, he added.
Dyck confirmed there was enough used inventory to satisfy their customers this year.