Redcliff Senior Centre's kitchen upgrade to start soon
Posted on March 30, 2021 by 40 Mile Commentator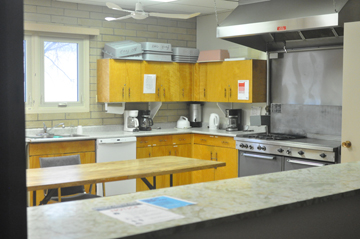 The Redcliff Seniors Centre's kitchen will get upgrade thanks to a federal grant.
By Justin Seward
Commentator/Courier
The Redcliff Seniors Centre has been closed for a year now due to the COVID-19 pandemic restrictions.
However, the Centre may have gotten the first bit of good news in long time as they were a recipient of the federal government New Horizons for Seniors Program grant in the amount of $24,020 recently.
The program provides funding to projects that makes a difference in lives for seniors and their communities.
"We're very happy with that for sure," said Jim Steinke, Redcliff Seniors Citizens Society president.
"It's going to go a long way in making our kitchen more functional and it'll look better."
The funds will go towards the kitchen upgrade at the Centre which will include new flooring, cabinets, counter tops and a three-tub sink and faucet as well as electrical upgrading.
"Right now we're in the planning stages of it," said Steinke.
"We kind of have been looking at this for a couple years now—maybe three years. Money was always the big thing that was lacking, so now with grant we got, we can go ahead with it."
The grant will pay for a majority of the project and if there happens to be a shortfall, the Seniors Club will have to come up with the rest of the funds.
Steinke said the current kitchen is workable but it is over 40 years old.
"It's time to get a good facelift," he said.
Steinke hopes the project won't cost above and beyond of the grant amount.
A bid will now be sent out and a final decision will have to be made as to if the affordability is there to do the whole renovations and the hope is to have the project done by summer.
This was the third time that the Seniors Centre applied for this grant.