Dealing with COVID-19 played a big role during Mental Health Week 2021
Posted on May 11, 2021 by 40 Mile Commentator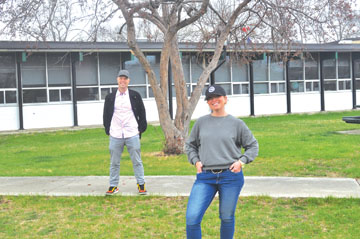 Commentator/Courier PHOTO BY Justin Seward PRPS' division psychologist Greg Godard and wellness coordinator Heather Schneider had their Hats On! for Mental Health Day on May 5.
By Justin Seward
Commentator/Courier
The Canadian Mental Health Association recognized its annual Mental Health Week from May 3-9.
Over the last year leading up to the 2021 event, COVID-19 has changed the awareness approach for mental health.
"I think with COVID-19, people are experiencing  just unprecedented stress and feeling anxiety related to that and the isolation that comes with it,"  said Allysa Larmor, suicide prevention educator for the CMHA's Alberta Southeast Region.
"And also, just the unknown I think of COVID-19 in general."
CMHA statistics show that 40 per cent of Canadians say their mental health is deteriorating since the onset of the pandemic.
This year's theme focused on understanding emotions, and labeling, recognizing and accepting our feelings, which are all a part of protecting and promoting good mental health for everyone.
"I think it's really important because it's a full week of promoting mental health and mental wellness," said Larmor.
"Especially (last) week—the theme, kind of getting real and not numbing it, but expressing our emotions. I think it raises just a huge campaign to raise awareness in general."
The theme was chosen due to the pandemic with the fact that people can so easily  get isolated with their emotions.
"When you're able to name it and not numb it and actually give a label to your emotions, it can help you understand and be able to process better—it can make us feel better," said Larmor.
"It actually increases our immune system if we're able to release and kind of label those emotions. But if they're overwhelming and persistent, then I think this week also raises awareness to be able to show you like where you can connect."
The Southeast Region does collaborate with the community each year with events such as CMHA's  Move for Mental Health run/walk, which was held virtual this year.
"They can connect online through their Move for Mental Health," she said.
The Southeast Chapter also tries to relay information to those who are struggling with their mental health or learning more about wellness.
Larmor said what the Southeast Region takes from this week is to see who is engaging and who is connecting with them and who is reaching and what are the demographics, so CMHA can better serve peo in the future.
Prairie Rose Public Schools staff recognized the importance of the week especially with what the students and teachers had to deal with over the course of the last year.
"This year, because the students are still in school, we were able to make a bit more of a Mental Health Week," said Heather Schneider, PRPS' wellness coordinator.
"So, we tried to bring back that normal spirit week, wear your hats, dress up, express yourself and really just try to bring back that mental health piece of let's talk about what we need to talk about and stop numbing it and the stigma around it. The kids support it and it's beautiful here."
The Family Support and Liaison Workers (FSLW), parent councils and Schneider rallied together this year to let the teachers, staff and custodians know how important they are.
"We actually created wellness bags and made sure that the teachers know that we got you and we know that this is a tough week," said Schneider.
"We're looking forward to celebrating them because (it) was also Education Week."
Schneider said teachers are at the all-time stress and trying to rally themselves to go back to online (effective May 7 with new COVID-19 restrictions).
"I would say that everybody knows now more than ever that this Mental Health Week is probably vital and important especially because come Friday, they're going to be going online," said Schneider.
"I think it says it all, that Prairie Rose sticks together and we're supporting that."
PRPS' division psychologist Greg Godard said people are more aware heading into this year's Mental Health Week.
"There's an increased awareness of mental health because it's so much more universal now," he said.
"In previous iterations of the Mental Health Week, often many people that are presenting and preparing are themselves feeling very mentally healthy—so it's  almost like let's help those who aren't. But because there is such a generalized feeling of fatigue and stress, it feels like those who are preparing can actually speak from their own current experience, which does make a difference."
The 40-Mile Regional FCSS is encouraging not only during this week, but during the rest of the year for people to use the online resources available during the COVID-19 pandemic.
"As COVID-19 restrictions limit the in-person networking we now try to encourage people to access on line support and learnings," said Corinna Roth-Beacome, 40-Mile Regional FCSS' director.
"Through a partnership with Alberta Health Services – Mental Health and Canadian Mental Health Association we are able to provide opportunities to the community to help them learn more about taking care of their own mental health as well as supporting someone they know struggling with mental health issues.  Social media and television have heightened awareness of mental health concerns and provided platforms for individuals
to access for support and education."
FCSS also partners with the Family Resource Network to access parenting workshops to help families address mental health and stress issues and support their children with coping strategies.
FCSS also provides funding support for counselling support through the Medicine Hat Family Services/
"If anyone would like more information on any programs or supports in our region, please give us a call, you are never alone," said Roth-Beacome.
The 40-Mile Regional FCSS can be reached at (403) 867-3077 or (403) 545-2200.
#GetReal was the social media trend throughout the week and allowed people to tell how they felt.
People can go to http://www.mentalhealthmatters.ca for more information on blogs and services.