Redcliff Pharmasave receiving high call volumes despite a lack of vaccine supply
Posted on May 11, 2021 by 40 Mile Commentator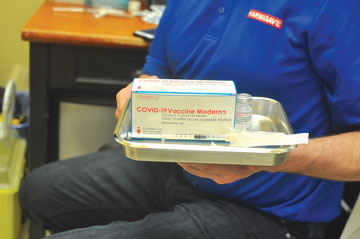 Commentator/Courier Photo by Justin Seward Redcliff Pharmasave received very little supply of the Moderna vaccine.
By Justin Seward
Commentator/Courier
Redcliff Pharmasave have been experiencing a busy stream of customers ever since the pharmacy received the green light to administer the COVID-19 vaccine back in March.
"It's been busier than we've ever been," said Rob Hozack, Redcliff Pharmasave pharmacist.
"I wish we were busy giving vaccines, when most days we're busy regretfully letting people know, we don't have any more vaccine."
The pharmacy has been administering the vaccine for about six weeks and had only received 700 doses in that time.
"We just have the phones going all the time," he said
"We've often (had) to pick up our cell phone if we need to call out (and) all the lines are busy."
The pharmacy is doing 30 inoculations per day.
"We could triple that easily, but the vaccine isn't coming quick enough," he said.
Staff are booked to assist with shots and once the vaccine is confirmed, a patient will be booked.
"No one's cancelled their spot, once they've got it booked, they've showed up," he said.
He added, "We just have to do our part to get rid of this thing and make it a bad memory."