Foremost Rodeo tentatively slated for July 23 weekend
Posted on May 18, 2021 by 40 Mile Commentator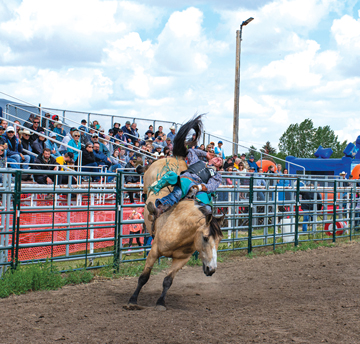 Commentator/Courier File Photo
By Justin Seward
Commentator/Courier
After several discussions throughout the last number of months, the Foremost Rodeo committee has decided to tentatively book the July 23 weekend for the annual rodeo.
The committee determined that date at their annual general meeting back in January.
"We had the date picked then," said Stacey Barrows, Foremost Ag Society secretary treasurer.
"I think some of the men on the Rodeo Committee have been just texting back and forth to see if they should go forward and they have made a decision to just start booking stuff because they've heard other rodeos are booking. If we didn't start booking now, when we decided to, if things were going forward, we might not be able to get the stock or announcers."
The hope is that restrictions will be open by that time.
"In the last few weeks, we've decided we would start to plan anyway, with the hopes that we could do something—that's where we're kind of sitting with it,"  said Barrows.
The committee picked a date because they want to hopefully host some sort of event.
"Our community loves rodeo, our committee loves rodeo," said Barrows.
"We just wanted to be able to host something. Not being able to host anything last year was a big disappointment and we were hoping we'd be able to go forward with something this year."
The committee has not reached out to any sponsors yet.
"If it looks like we're going be able to plan it, then we'll start reaching out to sponsors and that kind of thing," she said.
The Ag Society has discussed that the Rodeo will follow all guidelines and the possibility of hosting the event safely with an exemption.
"Our goals would be to be working closely with AHS to make sure we're doing it properly," said Barrows.