Irvine entrepreneur to open The Altruist Market in Medicine Hat
Posted on June 9, 2021 by 40 Mile Commentator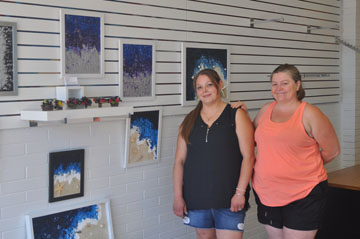 Commentator/courier PHOTO by Justin Seward Amanda Laychuk (left) is looking forward to be vendor at (right) Lou-Wanda Whaley's Altruist Market.
By Justin Seward
Commentator/Courier
Irvine entrepreneur Lou-Wanda Whaley is set to open The Altruist Market downtown Medicine Hat later this month.
"In a nut shell it's about people helping people and not looking for a big reward for themselves," said Whaley.
"That's the basis behind this whole entire thing and that's how the name came about."
The market will allow people with developmental disabilities who are very talented the opportunity to get their products out there.
"It's for people that are having a hard time making ends meet, but they have this amazing product that they're building and they just need somebody to give them a chance to get it moving," said Whaley.
"And on top of all of that, it's about making this area more desirable. We're going to have a lot of fun down here and having a lot of people coming in."
Whaley worked at CORE Association and saw how hard it was to find placements for individuals that can work limited hours.
"I've checked with Employment Standards and if say you're a person that has a developmental disability (and) literally can only work for two hours one day a week, I can hire them and pay them for the two hours one day a week."
Downtown was chosen for its central location because the space is ideal and the opportunity was there.
"A lot of people complain about parking; however, there are lots of places around here to park," she said.
"If you just go up the back hill here, there's free parking, it doesn't matter. Go up there, walk down and come and check some stuff out. If you need to be picking stuff up from here, there's always cars moving in an out—so it's very accessible."
A bus stop is just down the street for those people who don't drive.
There will be an ice cream parlor at the end of the  vendor tour.
Amanda Laychuk owns Creative Designs by Amanda and set up her space right at the front door for when the Market opens.
"I actually was talking with a friend of a friend that connected me with Lou here and it was history after that," said Laychuk.
"First and foremost, her (Whaley's) attitude. Her will just to do good and make the community a better place. That's what I'm all about too. As a person, we can help the community just individually. Secondly, it's in a very good location and it's a way for me to increase my business and make more art to display and sell to people."
Laychuk creates ocean wall art with all the elements of the sea.
"It's all acrylic painting and then I add in real sand, real seashells, starfish, little cool things like books and telescopes to make it interesting," she said.
The Market is for people without developmental disabilities as well.
She can fit 25 vendors in the building and people can sign up at The Altruist Market Facebook page.
One side of the building will operate six days a week Monday to Saturday from 10 a.m. to 8 p.m. and the other side will be opened Thursday through Friday from 4 p.m. to 8 p.m. and Saturday (10 a.m. to 8 p.m.).
The Altruist Market will open beside the Arcade Plaza at 415 Third Street SE on June 17.