Foremost School rides into its Rodeo Program
Posted on June 14, 2021 by 40 Mile Commentator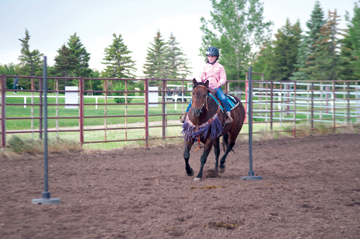 Rachel Fehr weaves through the poles during the pole bending session.
By Justin Seward
Commentator/Courier
The Foremost School Rodeo Program began earlier this month and gives students the opportunity to learn horsemanship at the rodeo grounds.
The program's idea stemmed from the Foremost Ag Society's dream of having a Rodeo Program in their proposed indoor riding arena.
The Ag Society then approached the school and  they decided to come on board for the program at the outdoor arena.
"A lot of it right now is focusing on horsemanship," said Michelle Cowie, Rodeo Program coordinator.
"They're learning horsemanship skills and just because we do have a lot of beginners, and they're focusing on learning rodeo skills as well. Eventually when the program develops, we'd like to incorporate citizenship and agriculture skills all together."
Foremost School students in Grades 3-12 are learning how to ride their horses through pole bending, roping, barrel racing and goat tying.
"Right now, we're just doing an after-school program," said Cowie.
"But in the fall, our principal (Corey Steeves), had talked about working it into classes twice a week and then from Grade 7 to 12, they would earn credits."
The goal is to have the school participating during the school days.
"The end goal would be (to) have the students doing it during the school day and earning credits," she said.
"But right now, we just wanted to start with something small and work our way up towards that because we're limited to what we can do with weather and the outdoor arena."
The after-school sessions will run until the end of June, before starting back up in the fall.
"We're welcoming all students right now," said Cowie.
"So, even if they don't have horses, they're welcomed to come and learn. With roping, there (are) lots of students who don't have a horse but want to learn how to rope."
Maddyson Dykshoorn is a Grade 7 student and the program interested her because she joined High School Rodeo and she wanted to learn how to rope and improve on pole bending and barrel racing.
"Definitely how to do my patterns better and to rope better because this is my first year roping and probably to get faster," said Dykshoorn, on what she wants to learn from the program.
Connor Harty joined the program because he could simply do rodeo at school.
"I think it gives you a focus on your interest more," said Harty.
"You can get more out of what you want to do I guess."
Harty's focus is to get better at roping.
The program had 21 students signed up to start.
Students must be from Foremost School to attend the program.