Redcliff Skate Park looks to be renamed
Posted on June 14, 2021 by 40 Mile Commentator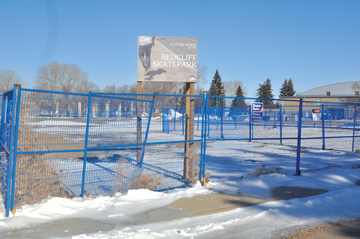 Commentator/Courier File Photo Town of Redcliff is looking for someone to take over the naming rights of the skate park.
Editors note-The wrong date was given for the opening of the skate park and now has been fixed.
By Justin Seward
Commentator/Courier
The Redcliff Skate Park is looking for someone to take over the naming rights of the new park that opened June 16.
The perk of having the naming rights to the park is showing their support for the Town of Redcliff.
"Ideally, it would be awesome if it was a Town of Redcliff business or something that is related to here," said Derrin Thibault, the town's director of community and protective services.
"They get to tell us what it is they like for signage, plaque or however they would like their name to be displayed. It's basically a donation to recognize whoever does that—whichever way that they wish."
An email can be sent to cps@redcliff.ca for those who are interested in obtaining the naming rights to the park.
"One of the (department employees) would pick it up and they'd  start having conversations around what that looks like," he said.
"It could be a one a time thing, annual donations or a sponsorship agreement could be drawn up."
Thibault confirmed that there has been no one step forward yet with interest.
The town is not concerned about the lack of interest.
"No, I mean it's not a huge concern," said Thibault.
"There's (a lot) of sponsors—they're smaller amounts—but there's still lots of sponsors. It's not a be-all end-all, it just would be awful nice and every little bit helps."
A grand opening is planned for mid-July.
A total of $22,500 has been raised through donations to date for the skateboard park as of June 9.
Donations are still being accepted on an ongoing basis.