Saamis Barrel Racing Club seeing growth in the region
Posted on June 14, 2021 by 40 Mile Commentator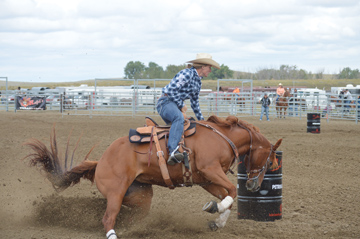 Commentator/Courier file photo
By Justin Seward
Commentator/Courier
Saamis Barrel Racing Club has been around for over 40 years in the region and Jackpot events run from May until the finals in August throughout the area.
Barrel racers range from as young as three-years-old and go up to 60-year-olds.
Between 90-to-100-barrel racers show up at any event.
"It's just a place to go barrel race and socialize and do it as a family," said April Tunke, SBRC's president.
"We have a lot of families that participate. It's absolutely amazing for kids. They learn so much responsibility as well as the compassion for their animals and the friends that they make will be lifelong friends through horses."
The barrel racers learn about sportsmanship, dealing with winning and losing as horses can be humbling and the friendships and bonds that are made.
SBRC's goal is to promote a fun activity to attend.
"It's competitive," said Tunke.
"Even though everybody is friends, you still compete against each other, you still want to win. But you still cheer on your friend's kind of thing. That's always the goal is to promote the sportsmanship part of it."
Tunke said some of the girls do the professional rodeo and they attend jackpots.
"When those girls are  in attendance, I think everybody rises to the occasion and you always want to do your best."
Tunke says the sport has been increasing in the region every year.
"So, every spring when the jack pot started, it's like 'Oh, there's a new family, oh those people are new," she said.
"So, every year it grows. I've been involved with Saamis since 2004 and I remember a time when you go to a jack pot and it would be a big one if there was like 17 in the Ladies Open competing. Now we're getting 70-80 a night in the Open."
There are some years where 30 peewees are competing, compared to when she first started when there  was a couple of kids, she added.
She attributes the growth to the parents wanting to do more with their kids.
"Barrel racing can be done by any age, it can be male or female and we do have some men that barrel race," she said.
"And if you already have the horses, it's not crazy expensive to do it. It's something more affordable and I think especially with COVID, it's something that we can do because we're not in close contact with people."
SBR keeps viable every year with the small fee that charged to its members.
"We don't keep a large bank account, we don't need one," she said.
"And anything that's left over at the end of the season goes into added money in our finals."
The Association received an exemption to compete this year.
"The exemptions have a lot of restrictions that go along with them," said Tunke.
"The changes we've had to make are how we do entries, how we do (the) pay out, the group gatherings, people have to have a mask in their pocket and they have to do the physical distancing and small groups. It's had an impact in more the office area, but really barrel racing is a single event anyways, so you're never really close to people.
More information can be found on the Saamis Barrel Racing Facebook page and on the Alberta Barrel Racing Association website.