Foremost School grads to walk the stage June 25
Posted on June 23, 2021 by 40 Mile Commentator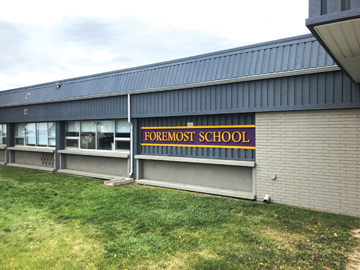 Commentator/Courier
The Foremost School graduates will be able to proceed with somewhat of a normal grad on June 25.
"The ceremonies will take place at one of the graduate's farms, where the grads will be under the cover of the roof. Their banquet guests will have open-air seating and each grad will still be allowed to invite three to four cars, depending on space, with those guests remaining in their vehicles," said Angela Hazel, Foremost School grad coordinator.
There will be a small banquet held at the Community Hall with a third of its fire code capacity to comply with current COVID restrictions.
A dinner will also be catered by Skinny's Smokehouse in Medicine Hat.
"We are really excited that the grads are going to have the opportunity to have both a meal and a ceremony with close family and friends," said Hazel.
" The graduates of this class all started school together in Grade 1 and they have formed an incredible bond over the years. It is exciting that they will get some sort of closure and a celebration before they all take off in separate directions."
There will be no livestream of the event as the school anticipates all the guests will be attendance that the grads will need.