Byam chasing Olympic dream
Posted on June 28, 2021 by 40 Mile Commentator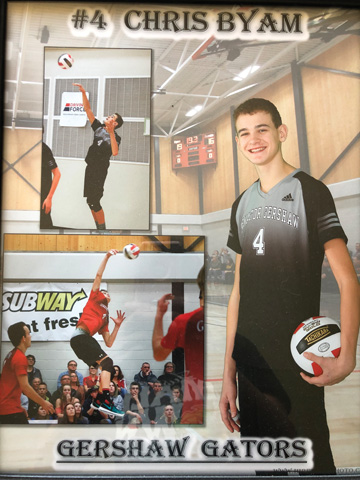 File photo
By Justin Seward
Commentator/Courier
Bow Island's Chris Byam will join his Volleyball Canada's U21 teammates on Monday in Gatineau Que., where the squad will be training before competing in a two tournaments over the next number of months.
The U21 team will represent Canada at the FIVB U21 World Championships in Italy and Bulgaria from Sept. 23 to Oct. 3.
Canada will also be participating in a Pan-American Cup from Aug. 14-22.
Training sessions will be commencing in between tournaments.
"I think it's pretty sweet ,especially with the year we've had—like it's been kind of on and off with training—so getting the opportunity like this not only to represent the country, but after a year without volleyball is going to be pretty sweet to get out and play with a great group of guys and have some fun in the summer," said the current Mount Royal University Cougar.
With players unable to try out for the team in person, players were asked to submit a video online.
"You would send a series of videos— whether it was like attacking, blocking (or) setting," said Byam.
"We just kind of broke up skills and sent individual videos and that's how they chose the team."
Byam found out he made the team via email at the end of May.
"I think a lot of it was they're just trying to build a team that's willing to grow and show that they're willing to do what it takes to compete at that next level," he said.
Byam feels this experience is  about getting his foot in the door for that international level of play.
"It's one step closer to my dream of the Olympics," he said.
"So, I think it'll be pretty sweet (to) kind of see my growth personally as well as a new group of guys just growing in the sport."
Despite not playing any competitive games with Mount Royal this season due to COVID, Byam has made sure he has been hitting the weight room to get stronger physically and doing a lot of the small things to stay active.
"I would say going on into it (camp), I'll be fairly prepared," he said.
"Of course, I still have to continue to do the right things over these next few weeks (referring to after June 14 interview) to make sure I'm staying in that condition. But I'd  would say I've prepared myself  really well."
The roster is comprised with athletes that have the potential to play in the 2028 Summer Olympics in Los Angeles.