A roundup of feral cats within Cypress County recently
Posted on July 5, 2021 by 40 Mile Commentator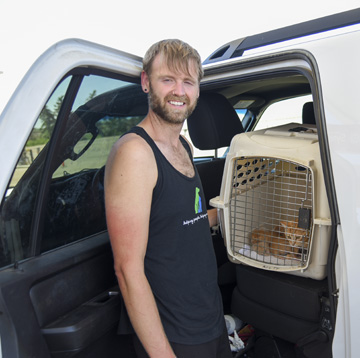 98 or 115. R.J. Bailot stands next to one of the three vehicles used to transport traps and cats for the Canadian Animal Task Force of Tuesday, June 22nd in Suffield, Alberta. Beilot is the co-founder and executive director of the Task Force.
By Anna Smith
Local Journalism Initiative Reporter
From June 21-23, the Canadian Animal Task Force, a registered charity, was in Suffield, Irvine and Walsh, humanely trapping local feral cats.
R.J. Bailot, the executive director and co-founder of the Canadian Animal Task Force, estimates that approximately 150 cats will be taken from Cypress County last week as part of what is often called a "Trap, Neuter, Release" program designed to reduce the number of feral felines in these hamlets over time.
"All of the adult cats that we've picked up, they're going to get spayed or neutered, but get vaccinated and dewormed. They'll get a form of permanent ID in the form of a tattoo, and then they'll come back to the areas where the animals were trapped," said Bailot.
Not all of the cats captured during this period will be released, however. Only adult cats will be returned to Cypress County after receiving the required veterinary care.
"The young kittens or some of the friendly cats that people have asked for us to re-home for them, they'll get rehome so they'll go to partner rescue organizations. And then once they're ready for adoption, they'll go up for adoption with the respective group," said Bailot.
Public response to the removal of the feral cats has been largely positive in the affected communities, said Bailot.
"We've been fortunate that the response has been great because we were able to advertise in the community to let people know we've been here," said Bailot. "We put out a survey, prior to coming out to Cypress county to let community members know that we would be into their Hamlet's and which days we'd be there. So people have been, you know, very receptive and excited to take part in this. There's people who are caring for the cats and they've all wanted to see the cats get the veterinary care that they require."
The Canadian Animal Task Force has been a registered charity since 2005, and operates primarily by volunteer work, with only three full time staff members and a single part time employee, said Bailot. They are a grassroots organization that relies on public support to continue their operation all across Southern Alberta.
The task force was born out of a great need, said Bailot, who had noticed that local shelters around him were always at capacity and often struggling to care for all of the cats in their care, while the feral cat populations were not actually decreasing.
"It's important that cats come back into the community because by removing all the cats, it never works. New cats just move in, and then they continue to reproduce. So by having a stable population of cats that have been spayed or neutered, it allows the community to still be happy, they don't see any mice. They still have a handful of cats that they could care for, but it's not hundreds of cats. It's not unmanageable," said Bailot.
The adult feral cats will be returned to the communities they originated from later this week, with care to ensure they are returned to the same community they were trapped in.