Cypress County crop conditions looking bleak after heat wave
Posted on July 13, 2021 by 40 Mile Commentator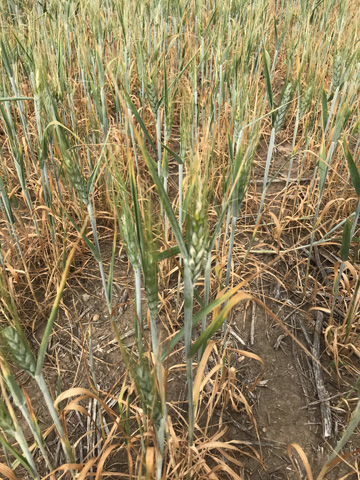 By Justin Seward
Commentator/Courier
Cypress County has seen temperatures in the high 30s during the last couple of weeks and a time where dryland farmers have seen a majority of their crops wiped out.
"To be perfectly frank, the heat wave on top of relentless consecutive years of drought have pretty much devastated our dryland crops around the area," said Nichole Neubauer of Neubauer Farms.
" (A) lot of folks are hurting right now."
Many crops could not be saved unless farmers have irrigation.
"We had a really good start," said Neubauer.
"So, because of that, the vast majority of producers have seen great germination rates. So, we had nice even stands that came through—they were looking really good. We got a little bit of rain to encourage growth. But then this heat wave struck at such an important time in the plant's development. They didn't have a great roots structure, didn't have a great roots system developed yet and very little sub-moisture reserves and as a result they really suffered with the relentless heat."
Neubauer said in a lot of cases the cereal crop have tried to push out the head where the grain would be, but is very short.
"It likely isn't going to be tall enough to combine in a lot of cases," she said.
"Other crops like peas and lentils—they've been stressed significantly. For us, our lentils and peas, they've started to die right at the base."
Neubauer was optimistic that if there was an inch or two of rain those crops could come back.
"Unless you're a farmer that has irrigation in this area, things are looking pretty bleak," she said.
Pasture land are taking steps backwards and producers are facing a lack of watering and a result dugouts are drying up for the cattle.
Neubauer said  most farmers buy drought insurance, but it nowhere near compensates the loss a person would have for just an average crop that would be sold at today's prices.
"There is a lot of global demand for product," she said.
"It's a tremendous financial loss for farmers—first and foremost. But second to that, of course, in agriculture we're eternal optimist. We're always looking to next year—we're not going to be able to do much this year, but we're still going to be able to have a good farm next year."
Neubauer added on the heat wave that, "This would be at the extreme end of the spectrum."
Scott Lehr is a producer near Irvine and has been forced to turn cattle out to graze in some fields because there is not enough crop to combine and he was unsure what to do with other fields yet.
"We've had some fields that are so dry, that they're not going to make a grain crop of any value," said Lehr.
"So, we just turned the cattle into grazing and use it that way."
Lehr said rain right now would still help things out.
"But it's bad," said Lehr.
"It's not going to be good no matter what now."
Lehr has cereal, wheat, barley, peas and canola crops to name a few.
Lehr's hope is to have a small harvest.