Thacker enters SGS Wall of Fame
Posted on July 13, 2021 by 40 Mile Commentator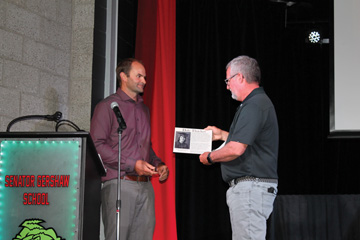 Commentator/courier PHOTO submitted Dale Thacker accepting his Senator Gershaw Wall of Fame Award from principal Scott Angle on June 24.
Contributed by Sherri Kambeitz,
Wall of Fame committee
Dale Thacker was the fourth inductee on to the Senator Gershaw Wall of Fame on June 24 during the school's annual awards day.
The award goes to a formed SGS graduate who exemplifies and make the community an appealing place to work and play.
The school community has instituted the Senator Gershaw School Wall of Fame award.
A true "Bow Islander,"  Dale Thacker is a worthy recipient of the Senator Gershaw Wall of Fame.  Graduating from SGS in 1974, Dale has always been community minded, and in the spirit of giving back, went on to referee basketball at his alma mater for several years post graduation; he was often known to donate his fees back to the school. He also gave willingly of his time when he volunteered to teach welding at SGS for a time. Several years back, Dale was put in charge of upgrading the skating arena gates during its renovation.  Always forward thinking, he managed to invent a much better model than what was being used.  Serving on the Bow Island golf club board for numerous years, Dale was men's league chairman, club president, and spearheaded many projects, including the addition to the clubhouse, and the indoor washrooms on the course.
In terms of his contributions to the field of agriculture, Dale invented the pyramid receiving can which is now the North American standard used in essential oil steam distillation, and in 2009, he invented a new style of distillation.  Dale is currently chairman of the Distillation Committee for the Mint Industry Research Council in North America. Because of his vast knowledge and expertise, he was also invited to join a think tank that would amalgamate the agriculture programs at Lethbridge College and the U of L.  Furthermore, Dale is a part of the AgriFood Processing Think Tank, a group which promotes agricultural projects in southern Alberta.
A lifelong learner, Dale earned his fixed wing airplane pilot's license at age 17, and upgraded his training to include a rotary wing license for helicopters at age 46.  This led to his involvement as a key member of HALO, our local helicopter air rescue. Thacker graduated from SGS in 1974.