Sunrise Panels Manufacturing distributing a steady amount of hopper bottoms
Posted on July 20, 2021 by 40 Mile Commentator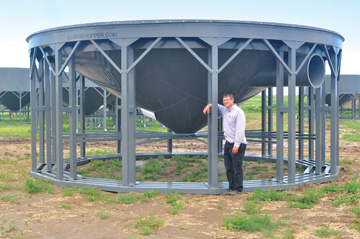 Commentator/courier PHOTO BY Justin Seward David Klassen stands by the biggest hopper bottom to date to come out of the Bow Island plant. The hopper bottom measures at 24 feet in diameter.
By Justin Seward
Commentator/Courier
Sunrise Panel Manufacturing's Bow Island location has been in operation for four years and their expertise is in custom fabrication with hopper bottoms for farms.
The company bought the place just south of Highway 3 between Bow Island and Burdett and production of hopper bottoms started out in a 50-foot-by-30-foot shop.
"There must be a demand for hoppers in the area, so we built a new (100-foot -by-70- foot facility)," said David Klassen, Bow Island plant manager.
"So now we're building hoppers (and) a lot of them."
The new plant opened in April.
Klassen was born and raised in the area and married a girl from the Willingdon, which is where the head plant is located near Vegreville, and his father-in-law convinced him to come work for the family-owned Sunrise Manufacturing Ltd.
"He had always been kind of haggling me to come and work for the company," said Klassen.
"But because I'm from southern Alberta and my roots are pretty deep here, I was kind of hesitant to do that. Then one day I guess mid-life crisis hit and I decided I had enough of construction. He had always haggled me to come work for the company and one day I said,  'Sure, I'll come work for the company.' And he said, 'No, don't come work for me, start your own facility.'"
The decision made sense because the Bow Island plant is far enough away from the main plant that would not be any competing happening.
"Everything we do is wide load," said Klassen.
"So, as soon you start hauling a wide load, it costs you big bucks. You know, you start a new facility down south, there seems to be a demand and basically further filled that demand at a better cost to the customer."
Klassen often hears that farmers are tired of shoveling grain.
"We take an existing bin and put a hopper bottom underneath it and now it's simply with the operation of a crank and you don't need any power to empty the bin," said Klassen.
"So, you basically crank all product down in the auger on to your truck … That's why product is popular— you don't need any power on the side and you don't need any back breaking to load up a truck," said Klassen.
The old facility was producing four hopper bottoms a week,  but now with the much more spacious facility, three a day are being built.
"I'm scheduled right now until the middle of October," said Klassen.
"It's kind of seasonal right. Winters always slow down and then we have dealers, so they start buying January, February. Then we get into spring when farmers start seeding their crops. They're starting to think about storage. So, the summer is then our season and goes right until people start getting in the field—that's when they need their product."
Land rollers are in the plans for the future.
"We're looking at doing more custom fabrication—like land rollers," said Klassen.
"We've built some land rollers and high-speed discs and stuff like that at the main plant.  If we catch up on building hopper bottoms and then we'll build land rollers."
The company began with two employees and now has 15.
Another focus will be to market into the States.
More information can be found at http://www.sunrisepanels.com