Tammy's Sunflower Wall to brighten spirits
Posted on July 20, 2021 by 40 Mile Commentator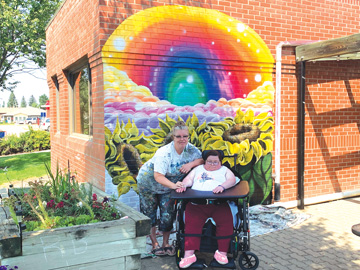 Commentator/Courier PHOTO BY Justin Seward PainterGirl Christy Vince stands with Tammy McFarland in front of Tammy's Sunflower Wall at the Alfred Egan Home last week.
By Justin Seward
Commentator/Courier
Norm and Gale McFarland have given a gift to the Alfred Egan Home that is bound to make its residents smile for a long time.
The McFarlands' daughter, Tammy, is a resident at the home and her parents wanted to do something for her July birthday this year.
Medicine Hat PainterGirl Christy Vince was called upon to create a mural outside of the Rainbow wing at the home. Vince painted a rainbow on top of the wall to depict the Rainbow apartments and sunflowers on the bottom—which is Tammy's favourite flower.
"We just thought it was a good gift for her, from her, with her that she'll be able to enjoy all season," said Gale.
"It's just something that will give her joy I think and that's the most important thing is your quality of life, just trying to give her semblance of normalcy."
Gale said this mural is who she is.
"She was always happy, loved people, loved sunflowers, she loved life," she said.
The original idea stemmed from a previous mural Vince did at the McFarland residence.
"So, this last year, was the last year that Tammy couldn't be with us," said Gale.
So we had Christy come and paint a mural in our yard of sunflowers because that's Tammy's favourite flower. And so then we were trying to think of something for her birthday and as I said, she was a person who really liked to make people laugh and make people happy. We thought this was a good way to share her personality, even though it's buried deep now, with people she is with on a daily basis—the staff and who have become like family."
Tammy, who turned 56 this month, was diagnosed with Alzheimer's some time ago, but only became noticeable three years ago and  she was also born with down syndrome.
Prior to her diagnosis, Tammy lived a full life as she had a job, her own apartment and attended early childhood courses at the University of Alberta.
Vince knew Tammy for many years before she came into the Alzheimer's stage.
"I was very happy to do it," said Vince.
"I have no words. It's just a very awesome thing for them to do and it was really cool to be able to be part of it."
Sunflowers are Vince's favourite piece to paint.
"Any kind of painting I do, (symbolizes) a little bit of meaning—but this one was very close to my heart," she said.
"Especially because (I know) Tammy. I've know what's she's gone through to get to this stage in her life and I know where she came from."
Alfred Egan Home staff is thankful for the project.
"We are very thankful to Christy and Mr. and Mrs. McFarland for their thoughtfulness and generosity in having this mural done," said Meghan Michalezski, Alfred Egan Home rehabilitation practitioner.
"The families of our residents have always made it a priority to turn this outdoor patio into a beautiful space with decorations and flowers and now it is complete with a mural. All of
our residents will get enjoyment from this outdoor space."