Agriculture Discovery Centre construction now underway
Posted on July 23, 2021 by 40 Mile Commentator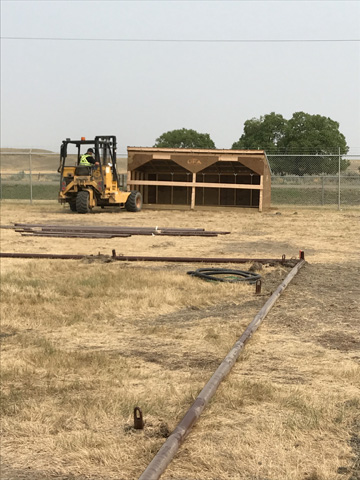 Commentator/Courier Photo submitted by Nichole Neubauer A calf shelter is seen here being constructed as a part of the new Agriculture Discovery Centre last week.
By Justin Seward
Commentator/Courier
Construction has began on the new Irvine School Agriculture Discovery Centre.
The student-led farm will be a highly interactive agriculture learning facility that all Irvine School students will have access to.
Students will learn about farming practices that are socially responsible, environmentally sound and financially viable.
The curriculum will see students raise livestock, grow and sell produce and grow a variety of demonstration crop plots.
"Exciting learning opportunities, such as the Agriculture Discovery Centre, embed cultural and agricultural traditions directly into the school environment," said Reagan Weeks, Prairie Rose Public Schools deputy superintendent.
"This would not be possible without the incredible support and direction from our rural community partners. We are incredibly thankful to Neubauer Farms for sharing their expertise and time to support this one of a kind educational experience for students."
Neubauer Farms is thrilled to be a part of the ADC.
"The ADC will serve as a catalyst to cultivate meaningful student connections to the land that sustains us all," said Nichole Neubauer, of Neubauer Farms.
Other program offerings at the ADC include an outreach program to connect urban students to the ADC and the "Adopt a Class" initiative.
"Through the use of virtual learning platforms and social media channels, students of Irvine School will become producers of information and will speak as subject matter experts regarding sustainable farming and ranching practices," as read in the press release.
THE ADC is one many agriculture-related initiatives announced by PRPS.
Construction is to be completed by Sept. 21.