Suffield playground project now complete
Posted on July 23, 2021 by 40 Mile Commentator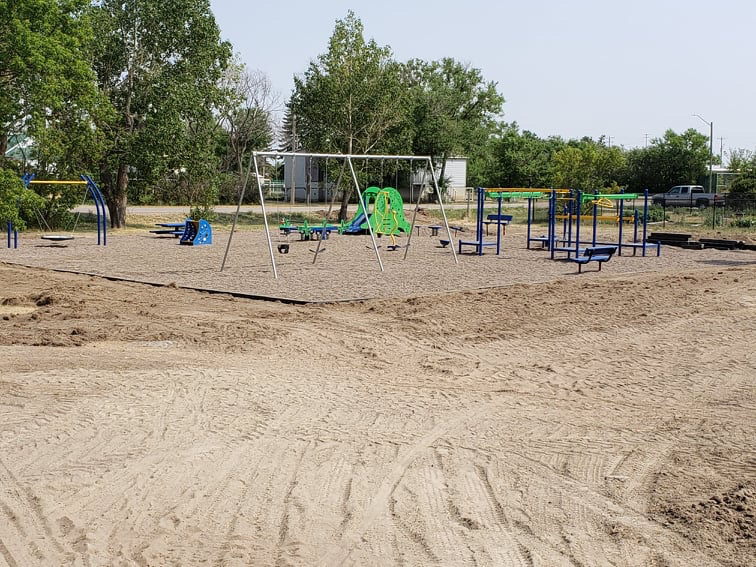 Commentator/Courier Photo submitted by Alf Belyea Suffield now has a new playground that families can enjoy.
The Hamlet of Suffield kids and their families will be able to now enjoy the new playground that was completed on Friday after a two-week construction period.
The new playground was five years in the making after Cypress County deemed the old structure condemned.
"I think it's probably brought our community together," said Alf Belyea, playground project committee member and Cypress County councillor for Suffield.
"Also, if we want growth, younger families and what not, you need this in a community. It's a priority. I wouldn't want to move to a community if I had young children without a playground now—that's where kids hang out."
It was a year ago project talks moved ahead as the committee that was spearheaded by Daina Rance began the process by applying for grants.
The project was successful in landing a matching $77,000 Community Facility Enhancement (CFEP) matching grant, Cypress County contributed $50,000 and Ralston School donated up to $5,000 and the Suffield Community Association pitched in $25,000.
The price tag will be over $200,000 with the additions of pea gravel and equipment for construction.
"Daina, like I said, she did the legwork of picking out the equipment," said Belyea.
"She went to different playgrounds and said, 'OK, this is what we would like.' And we put it in motion."
Medicine Hat's Blue IMP, who specializes in Canadian-made playgrounds, built the new playground equipment pieces that included two glide rides, a Digby the Dinosaur, a mallard spring rider, tandem bounce, bee hive, crazy cup, lunar scooter, crazy eight, stepping saucer and pirates plank to name a few.
"Richard (Oster, Cypress County Deputy Reeve) and myself, we started to move the material to flatten the area and what not," said Belyea.
"Once we got it flattened, we asked for volunteers from the town  to start installing any equipment pieces. Yeah, the town stepped up to the plate—the young people in the town especially. They have come out and supported this project full heartedly, like teenagers."
The Suffield Community Association is in discussion now for an irrigation system and converting the tennis court into a multi-use surface.