LaGrange visits Irvine School Agriculture Discovery Centre
Posted on August 25, 2021 by 40 Mile Commentator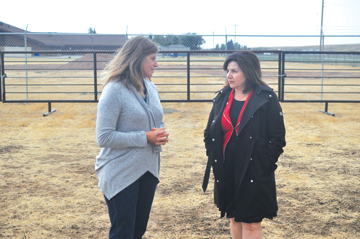 Commentator/Courier Photo by Justin Seward Alberta Education Minister Adriana LaGrange spoke to Nichole Neubauer on the grounds of the new Irvine School Agroculture Discovery Centre on Aug. 17.
By Justin Seward
Commentator/Courier
Alberta Education Minister Adriana LaGrange visited with Nichole Neubauer of Neubauer Farms and Prairie Rose Public Schools brass at the newly built Irvine School Agricultural Discovery Centre on Aug. 17.
The ADC will start up in September and students will learn about the farming and ranching life in a scaled-down approach with livestock demonstrations with cows, calves, chickens, steer and goats.
Raised beds will be built to grow various crops and vegetables, soil testing and fertilizers.
"(With) myself and my husband being a farmer, it really speaks to my heart as well that there are programs that are going to really reinforce the sustainability of agriculture," said LaGrange.
"The fact that there's opportunities for young people in agriculture – whether they're on the family farm or whether they take on one of the subsidiary jobs that are available to them – that there is opportunities here. I'm just thrilled that they (want)  to look at this new innovative program to inspire kids in agriculture."
LaGrange said the agriculture program is really taking the curriculum and ensuring it's relatable to young people – particularly young people that come from an agricultural background.
"When you look at the mathematics and the science and there's just ways to incorporate that into the day-to-day life of students," said LaGrange.
"And using the agriculture focus – giving them real life practical experiences that will help them understand how math relates to the world that they live in on a day-to-day basis. Farmers are entrepreneurs, they are creative (and) they also have to manage big budgets. So, there (is) just a lot of relational aspects that can be brought in experientially through what they're doing on a day-to day basis."
In speaking with Neubauer, who is a partner in the program, LaGrange was enthused with the program speaking the language of children and them incorporating the real things in their lives and building on them more.
"As I mentioned earlier to the whole group, I understand the average age of a farmer right now is 50 and these are the very people that are feeding the whole population," she said.
"We need to continue to inspire our young people to continue on in those jobs and it's not just a job. Often times it is a vocation because it is the labour of love too to grow crop and to grow animals for human consumption."
LaGrange agreed the agricultural programs concept is an idea that may expand to other school divisions.
Neubauer was thrilled to host LaGrange.
"She was here to learn about our Agriculture Discovery Centre," said Neubauer.
"There's incredible opportunity for careers in agriculture and we need our kids to be thinking about those careers when they're younger. The only way they'll ever know those careers is just by learning and living and that's really what our program is all about.
"I've campaigned for a long time and had a real belief that agriculture belongs in the curriculum. It needs representation in the classroom and so to have the education minister come and see that it is valid and that's important work is really inspiring because it'll help us advance as a industry if we can better educate and prepare our ag leaders of tomorrow today."