Greengate Power proposes two solar projects in Cypress County
Posted on September 1, 2021 by 40 Mile Commentator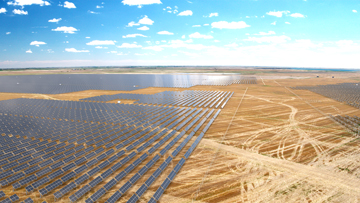 Commentator/Courier Photo Shelby Flath Pictured is Greengate's Travers Solar project in Vulcan County, which would be a similar lay out to the proposed solar farms in Cypress County.
By Justin Seward
Commentator/Courier
Greengate Power's vice president of stakeholder engagement Dan Tocher spoke about two proposed solar and battery storage projects to Cypress County on Aug. 24.
Greengate works on Canada's largest Wind and Solar projects that can produce greater than 1,000 megawatts in energy and have the ability to heat over 350,000 homes.
The Jurassic project would be located in the northwest tip of the county just south of Special Areas No. 2 on a quarter section of land and will produce 300 megawatts and power 100,000 homes.
"We still have some work ahead of us with the permitting (and) various environmental studies that we conduct both in the spring and in the fall," said Tocher.
The project would be in commission by quarter three in 2024 and last 35 years with the potential of reeling in $500 mm (million) in investment.
The Midnight Solar project would be located 10 kilometres northwest of Medicine Hat off Box Springs Road and will produce 465 megawatts, which will heat approximately 150,000 homes.
"We've secured 4,500 acres of land there," he said.
" All tame grassland, very low agriculture land. I think it's a section and a bit that are actually cultivated there—the rest of it is all tamed grass. Again, all of our permitting is under various stages of development."
This project will bring in around $500 million in investment and have a life expectancy of 35 years and be operational in quarter 4 of 2024.
"When we found these locations, the solar resource in the area was phenomenal," he said.
"We felt we've found a couple of really great locations where we can match up the technology as far as the types of panels that are available with this amount of sunshine and come up with a very decent solar project."
Community benefits include more than 1,000 cumulative construction jobs.
"Early on, we start with the perimeter fencing and some of the earthworks, land movement and cut and fill—there's less people on site," said Tocher.
"But as we get into screw piling and racking, running the cable—a lot of hand work— we can get up to 1,000 people on site at those peak times of construction."
Once construction is complete, there will be five to 10 people workers on site monitoring various components of the solar facility.
"Our hopes are at the end of the life of the project is that topsoil out there is a lot better than it is when we enter," he said.
"And obviously through proper vegetation protocol and grazing, we are significantly increasing the carbon sequestration in the soils and that will obviously have very positive benefits to the top soil there."
The county could see a significant tax revenue in the form of an estimated $100 million over the life span of the project.
Greengate will open a community fund to assist organizations, individuals, non-for-profit and fundraising in the immediate geographic area the project serves.
"We're looking at between $25,000 and $100,000—that's not an annual contribution," he said.
"We'll put that into a fund and we will take annual applications for these funds once a year. We feel it's super important for us to do this because there's (a) lot of organizations—there (are)United Way, there's Family and Community Services, food banks. There's other programs within communities that are looking at sustainability-type programs that  would love to be involved with and contribute to."
It was in quarter four of 2020 Greengate secured the land option and leases and started the land application.
Quarter three and four in 2021 have seen municipal/community engagement, environmental assessments and submission for Alberta Utilities Commission approval.
Quarter one in 2022 will see Greengate host open houses, receive AEP's approval and ongoing project development.
Quarter two of 2022 will see the submission of the AUC application for power plant and interconnection and Municipal Development Permit submission.
Quarter three next year will include approval from AUC for power plant and interconnection and MDP approval.
Construction is expected to start in 2023 and commercial operation in 2024.