Dunmore's Westside Park renamed through contest
Posted on September 7, 2021 by 40 Mile Commentator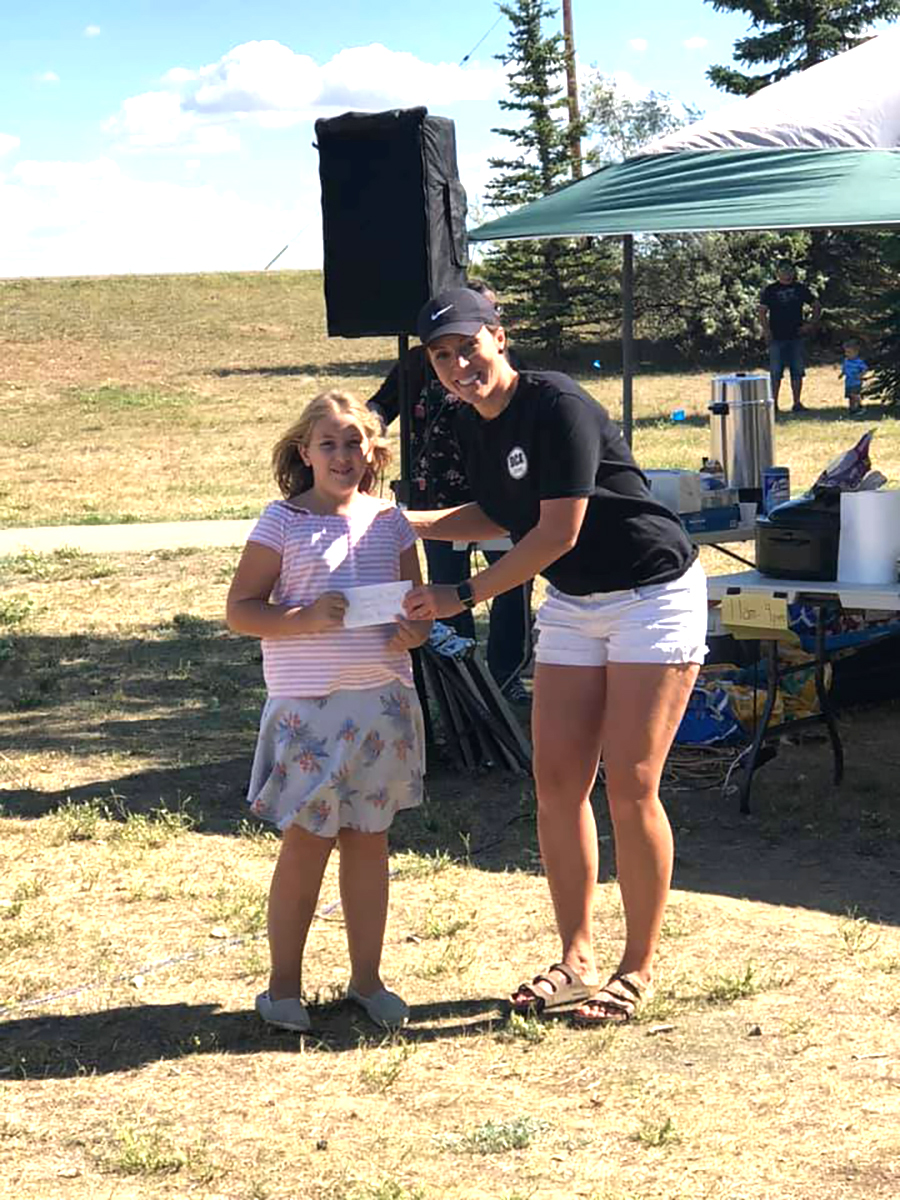 Commentator/Courier Photo by Dunmore Community Association Facebook page DCA director Olivia Whenham presented Treslie Phillips with her Rusty's Roadhouse gift card for winning the Naming the Park contest on Aug. 28.
By Justin Seward
Commentator/Courier
Dunmore's Westside Park was officially renamed Sunrise Park at Dunmore Days on Aug. 28.
The Dunmore Community Association held a Naming the Park  contest and nine-year-old  Treslie Phillips' Sunrise Park name was named the winner and recognized during the festivities.
"I was really excited when it happened because I was like, 'Wait, I'm in the top two  right now? I didn't think I'd actually name it,'" said the Grade 4 Irvine School student.
Phillips felt the name Sunrise just stood out because if you went to the park, there is  a pretty good sunrise.
"And it's really sunny there and quite warm there sometimes and I think Sunrise just kind of fits there," said Phillips.
She is quite often at that park and her favourite equipment pieces are the purple elephant and the upgraded swings.
She received a Rusty's Roadhouse gift card for winning.
"We thought it was really good," said DCA president Shevaun Perrault.
"We enjoyed that the name kind of reflects what's happening over there. I actually didn't think about it from Treslie's point of view with how the sunrise would be, but that part definitely has an open area facing east. So, I get what she's saying now."
Perrault said the naming contest came after there were some talk about not having it not being known as the Westside Park and just make it more inclusive for everybody.
"We put out a call that anybody could put a name in," she said.
"It was an anonymous entry and the DC members went through it and took out anything that was inappropriate or anything that kind of wouldn't match our community."
Any community members that signed up for a Dunmore membership then posted and voted for their favourite names.
The DCA is waiting for quotes for signs before installation happens.