Tigers' exhibition games shifts venues
Posted on September 13, 2021 by 40 Mile Commentator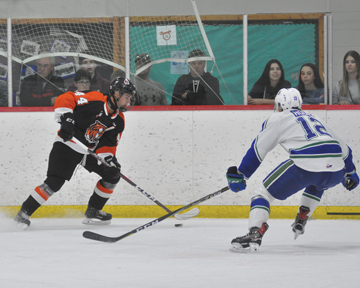 Commentator Courier Photo by Justin Seward Medicine Hat Tigers rookie #44 Cole Sillinger looks to chip the puck by Swift Broncos' Eric Houk during an exhibition game at the Irvine Sports Complex on Sept. 4, 2019.
By Justin Seward
Commentator/Courier
The Medicine Hat Tigers were scheduled to play exhibition games on Sept. 18 and Sept. 25 in Irvine, but it was announced last week those contests will be shifted to Co-op Place due to a social distancing concern. "There was some concern that Irvine being such a small rink—even with a sell-out of 400 people—it would be fairly close quarters," said Sheridan Siewert, Irvine Minor Hockey's past president.
"So, the Tigers and us made the decision to move it to a larger venue where they'll enjoy the game, but be more comfortable with the social distancing as the Co-op Place provides a lot bigger atmosphere."
Tickets  can be purchased for $20 each at the Irvine Hotel and  Rusty's Roadhouse in Dunmore and in Medicine Hat at The Scoreboard and Badlands Fitness.
More tickets will be available at the Tigers office from Sept. 14-17 and at the gate on game days. Tickets previously sold to the games in Irvine will be honoured.
Proceeds will be split the Tigers and Irvine Minor Hockey.
The Tigers will face the Lethbridge Hurricanes on Sept. 18 and Swift Current Broncos on Sept. 25 with puck drop at 7 p.m. on both nights.