Cypress County council receives Welcome Centre report
Posted on September 28, 2021 by 40 Mile Commentator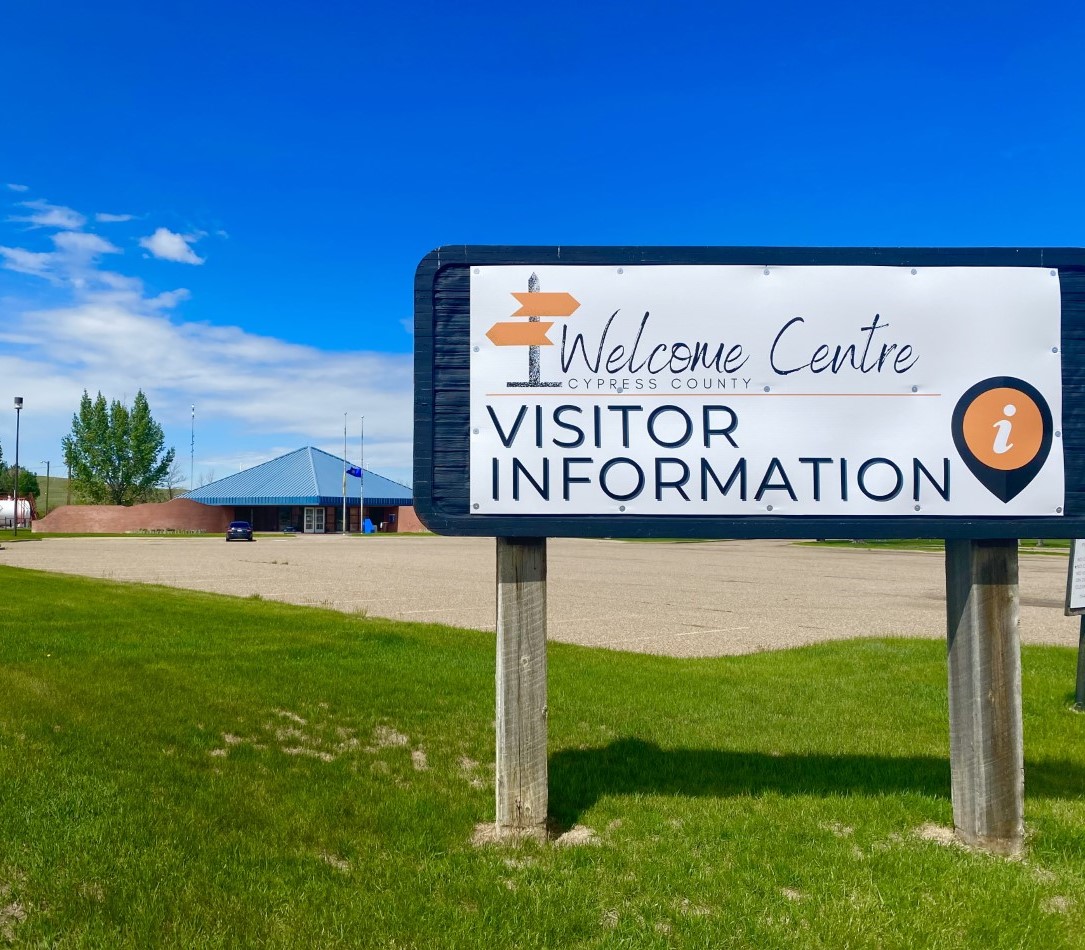 Welcome Centre Facebook page photo
By Justin Seward
Commentator/Courier
Cypress County councillors received the Welcome Centre report on Sept. 21.
The Cypress County Welcome Centre was housed in Travel Alberta's old Visitors Centre in Walsh from May to September and received 2,279 visitors over that time span from 716 visiting parties.
Visitors ranged from BC to Quebec with some international people from the United States and Mexico.
There were a total of 951 that said they would be staying in the area during the duration of the Welcome Centre being open, while 1,235 said No.
Boutique sales reeled in $1,961.35 from products being sold from different local artisans and businesses.
"The Cypress County Boutique with our local folks selling goods was very much a success," said Cypress County chief administrative officer Tarolyn Aaserud.
"(The) people stopping in, the people participating in it; it worked really well."
Early weekly trends indicated a lot of travellers from Manitoba, assistance with bookings were made,  there were campground inquiries and bookings in the local area, hotel recommendations were made and attraction/experience information was provided on Dinosaur Provincial Park, Royal Tyrell Museum, Banff/Lake Louise area, Jasper and various areas in BC.
The Chasmosaurus Irvinesis dinosaur display was a popular display with many photos taken with the skull. A draw was made to name the skull and Cleo was chosen and Ralph the raptor was also popular.
Celebrate Cypress County Day was held on June 26, the outside of the Visitor Information Centre windows had event posters in the county, Medicine Hat, Irvine and Elkwater and the   back of the centre information boards had information on the development of Cypress County, regional facts, agriculture, evolution of rural services, indigenous history and the North West Mounted Police.
Aaserud said the responses back from people was overwhelming.
"One thing that was overwhelming is that had it opened five days a week—one of the biggest things is to open it seven days a week, "she said.
Another request was for overnight camping that came from a lot of people.
"As we all know, campgrounds are totally full" said Aaserud.
"We're only leasing it and the province will not allow us to do that. So that's something we're investigating right now."
Inquiries also came in about a playground, which there is not one, "but imaginations were used and they had a lot of other types of games like frisbee golf and other fun stuff people utilized quite a bit," added Aaserud.
"It was a low budget production to see what would happen, but everybody was interested."
Coun. Ernest Mudie said he was pleased to see it was a good adventure and thinks the county should look at buying the facility.
"I see a lot of potential," said deputy reeve Richard Oster.
"I'm an RV person, I travel, and I like to do those kinds of stops. It would be neat to have just a dozen stalls or something for overnight plus definitely we need a new playground. What a way to give people directions as to where to go in Cypress County."
County administration is in discussion with the province in regard to continuing to operate the centre in future and council will be presented with options during the budget 2022 presentation.
Coun. Dustin Vossler made the second motion for staff to look into purchasing the centre from the province and council approved.
Library board funding
Council approved to forward an additional annual $17,000 contribution to the county library board and funded by the stabilization fund.
"So, what we're looking at here is we've done our numbers, we've done our budget and we'd like to do a little bit of updating on some books and programs and some replacing," said Oster, who sits on the library board.
"And also look at bringing back library assistance, just so our main librarians have a bit of break. We haven't had any increase in funding since 2018 and working over the budget this is the number we come up with."
Oster added, "We do need the money to pay our bills and keep operating."
There will be $10,000 of that funding going from the county library board to Shortgrass Library System due to the shortage of funding from the federal government and the remaining $7,000 would go to the Irvine Library for staff supplies.
The Cypress County Library Board consists of Irvine and the Ralston libraries.