Hatter taking Canada's game to Egypt
Posted on September 28, 2021 by 40 Mile Commentator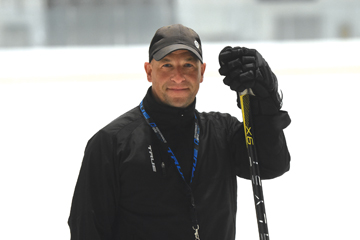 NEWS PHOTO JAMES TUBB Justin Scott, owner of Performance Edge Hockey Development, is heading to Cairo, Egypt later this month to introduce hockey skills to both a youth and adult team. He will be there for two weeks and plans on making return trips to help grow the game even more there.
By James Tubb
Southern Alberta Newspapers
Teaching hockey skills in Egypt, sounds crazy doesn't it?
That's exactly what Justin Scott, owner of Performance Edge Hockey Development, will do later this month. The certified power skating and Hockey Canada skills coach is heading to Cairo on Sept. 28 for two weeks of teaching skills to both young and adult players.
He says the plan for his trip is to set up an academy for ages 6-14 and help build the men's program with the Egyptian Ice Hockey Federation. They also want to set up a digital library of skills and drills to further grow the game in Egypt.
"Hopefully I can share my passion and my love for the game to them," he said.
With the younger group, he says the goal is to teach a love for the game of hockey like Canada has and to further attract kids to the sport. Working with the older group will be more skills coaching, helping them get better and understand what it is to be hockey players on and off the ice. It will be a challenge for Scott to teach through an interpreter and to cram as much as he can into a small period of time.
"It's going to be a very challenging experience, just because of me trying to get as much accomplished in a two week period," he said. "Obviously this trip is going to lead to more trips to Cairo to build the program."
One difference between coaching in Canada and Cairo will be that most of the lessons and drills will be conducted off the ice. He describes the rink in Cairo as super small and believes it is smaller than two dressing rooms in Canadian rinks. For the two weeks he is there, they will travel to another rink in a shopping mall near the Giza pyramids, that costs $800 an hour to rent.
That's why he wants to ensure they capitalize on their time on the ice and not stand around learning. His knowledge of the game isn't the only thing he is bringing to Egypt, as he hopes to have bags of hockey gear for the players.
"It's not like you can go to your sporting goods store in Cairo and buy hockey sticks and skates and stuff like that. They're struggling getting helmets so I hope to bring that," he said.
The idea to go teach skills in Cairo started back in June after the group in Egypt reached out to Scott through his social media presence. He doesn't like the term influencer, but has 18,800 followers on his Instagram account hockey_sporttest.
There he shows drills, explains why he does them and showcases all of the work trips he's been on, like Cairo.
He has travelled to Australia, Hong Kong and around North America teaching hockey skills to different groups, with his social media playing a big role. Scott considers it ironic because he never wanted to have a social media presence and almost didn't.
"I had a friend of mine tell me to get on social media, get on Instagram," he said. "I almost called her bluff and told her I don't need that but now it's my major platform… It's about sharing my knowledge worldwide and has provided me opportunities… thinking I was only gonna get a few hundred followers out of it and now I'm classified as a social media influencer by some," Scott said.
Scott added his friend still brings it up and that he can't thank her enough for how busy he is.
The 39-year-old Medicine Hat product played junior B and college hockey as a teenager before he had to step back from hockey due to concussions. It wasn't until years later he returned to the game as a skating coach in 2009.
He started his skills coaching business in 2019 as a side job and it grew more than he ever imagined. He has received sponsorships, including his main equipment deal with True Sports, and will have taught in five of the seven continents once he gets back in October.
"I love seeing kids get faster, because if you can't skate you can't play the game. But I love teaching the life lessons that come from the game of hockey," he said.
Once he gets back from Cairo, Scott has one week left of on-ice training with Hockey Canada to become a certified Hockey Canada skills coach, one of few in the country. For him, the accreditation of being a skills coach certified by Hockey Canada speaks volumes. He says it gives him credibility in the skills world, especially with jobs like the Cairo trip.
For Scott, he is excited to do the normal tourist stuff while in Egypt but is also looking forward to learning the lifestyles of the players he will be living with while there. What he'll get out of the trip the most is knowing everyone he worked with learned something and that he has made more friends around the world.
"It's kind of a two way street. I give them all of the knowledge I have and they give me the knowledge of their country, their lifestyle, the way they do hockey and how I can help out," he said. "If they've learned something, then I've done my job."
He will be documenting the trip on his Instagram account, hockey_sporttest and on his Facebook, Performance Edge Hockey Development.
One thing he has experienced in the game of hockey and a lesson he hopes to pass on in Cairo is to appreciate the game while you're still in it and for what it can give you.
"Hockey is so short," he said. "You might end up finishing your career at 16, 18, 24. But, the life experiences you are gaining from that, and the life lessons you learned in that time will be with you for the rest of your life."