F&S Safety Buzz Campus now offering driver training school
Posted on October 6, 2021 by 40 Mile Commentator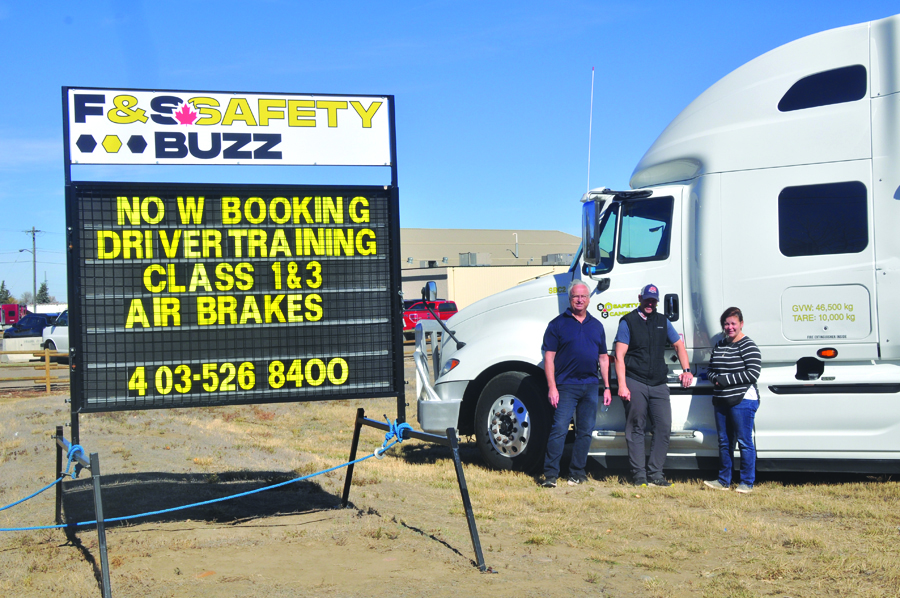 Commnetator/Courier Photo by Justin Seward From left, Safety Buzz Campus's Bruce Pennington, Dallas Duncan and Jenessa Pope are co-ordinating truck driver training.
By Justin Seward
Commentator/Courier
F&S Safety Buzz Campus in Dunmore announced Wednesday that truck-driving training will now be offered.
"We decided through Dallas (Duncan, Safety Buzz truck driver trainer) a number of months ago to investigate the driver training," said Ron Pennington, Safety Buzz's corporate development representative.
"So, with Dallas's encouragement, we decided to take a hard look at the industry here in Medicine Hat in terms of driver training, and of course the first thing you realize is that the driver training industry in Canada — there's such a shortage of truck drivers — it's outrageous. It's actually going to get worse over the next number of years."
The second factor was there is not a lot of competition here in Medicine Hat as other companies tend to focus on the Class 1.
SBC will now offer truck drivers the opportunity to obtain their Class 1 Experience and Equivalency, which is where the Mandatory Entry Level Training program is conducted, to allow for improved safety for everyone on the road by ensuring a Class 1 tractor trailer and Class 2 bus drivers receive adequate training before they are tested for a Class 1 and 2 driver's licence.
A Class 3 allows a driver to operate certain commercial vehicle and any motor vehicle a Class 5 licence allows for.
Airbrake certification will also be offered.
"Now, the reason we focused a lot of energy on talking about the Class 3 is because there's so many farms and agricultural clients, Hutterite colonies here in southern Alberta, and there's a need in that market and that demographic for the Class 3 licence," said Pennington.
"A majority of the vehicles you see driving around Medicine Hat — like the Tim Hortons, the Pepsi delivery people, guys hauling gravel —that's all Class 3 drivers. We felt that there was a real need in the market for another Class 3 school here."
If a truck driver has been a Class 3 driver for two years, then they're qualified to take the Class 1 Experience and Equivalency training at a fraction of the normal cost ($10,000) — which would work out to $4,000.
SBC has found ever since the Humboldt bus crash that insurance rates for truck driving have increased exponentially.
"If you are a 24-year-old person and you want to be a truck driver, you went out and got your licence, you bought the equipment — the rate of insurance would actually be prohibitive to get in the industry," he said.
"If you're a Class 3 driver and because you have experience — you get the Class 1 E and E — you're going to save some money on your insurance rates."
Jenessa Pope is a licensed driver with Safety Buzz and thinks the program will be important for the area and help the community.
"It's more of streamlined thing with the government bringing this course in," said Pope. "It covers across the board all the information truck drivers need to know.
"So, previously as a truck driver, it was a little bit more willy-nilly to get your qualifications. You'd get your airbrakes and then a couple hours in the truck with somebody and usually you're sent out. Now, depending on the course your taking, it is a lot of classroom time as well as instructional hours in the truck, to make sure you as a driver are professionally prepared for the life of a professional driver."
More information can be found at http://www.fssafetybuzz.ca or by calling (403) 526-8400.