Plenty of discussion was had over Irvine land use reclassification
Posted on October 12, 2021 by 40 Mile Commentator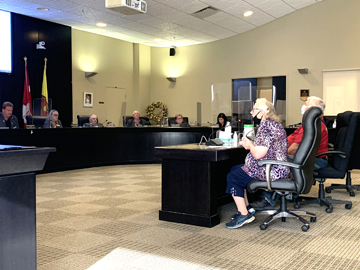 Commentator/Courier Photo by Justin Seward Carol and Dennis Douglas voice their concerns to county council about a proposed campground in Irvine on Oct. 5.
By Justin Seward
Commentator/Courier
Cypress County council held a public hearing for a proposed land use amendment from Hamlet Residential District to Public and Semi-Public Service District in Irvine for the purpose of a  campground on Oct. 5.
Cypress County submitted the application with the intent of allowing a development permit application to be submitted for consideration of a municipally owned campground.
The preliminary plan would be a phased approach and to utilize the curb stops as they come out.
Between council, submitted letters and a couple of hamlet residents in attendance to voice their concerns, there was a lot of discussion on the topic.
"Cypress County began the process to develop a campground on a county-owned property—which is commonly known as Lansdowne property— which is located on the westside of Irvine," said Tarolyn Aaserud, Cypress County chief administrative officer, who presented on  behalf of the municipality.
"The land zoning process is the first of many steps to be completed."
The county has completed an extensive investigation of development of the future properties and the current underground infrastructure does not meet engineer specs and is currently used for residential purposes.
The upgrade would cost $750,000 to reconstruct the underground utilities according to the report.
"The county has looked at many different uses for the Landsdowne property," she said.
"Upon investigation, a recreational campground has been deemed the most appropriate. As the campground is seasonal use, the underground infrastructure may be utilized. In the past 20 months or so, the world has changed dramatically. Camping and doing other outdoor activities have become more prevalent. Campgrounds in the area are at full capacity and there's a need to create more places for county residents and Albertans to recreate."
Irvine residents Carol and Dennis Douglas live #2 Prairie Drive and were present for the public hearing and live near the proposed campground and feel as though it would be a mistake.
"Carol and I feel it's a mistake changing from housing to a campground," said Dennis.
"We're not excited about living in a campground and I think it's going to affect our property values."
Dennis was wondering if the county is going to fence on the east side at Wilhem Drive from the lift station up to the property.
"Right now, there's no firm plans," said Aaserud.
"But that would be a part of the development process and that would be a part of our application is to have appropriate fencing for the whole site."
Dennis brought up the concern of people tenting that may stay there with the train coming through the area.
"Are you really wanting to put tents there?" said Douglas.
"Those poor people are not going to get any sleep at all and it has affected the foundations of  houses—I'm quite sure it's the train. When I'm sitting in my easy chair and the train goes through that's heavily weighed—my chair vibrates."
Coun. Robin Kurpjuweit said, "If I was living there, I would probably be as concerned about the idea of living within a campground based on the way the map is."
Kurpjuweit agreed to have irrigation and beautification to avoid long grass as a fire concern is the only way to make the design right and he did empathize of the decreasing property values.
"I can tell you that everybody in this room is more interested in increasing the value of properties by revitalizing Irvine in a way," he said.
Resident Anita Chrisp submitted her concerns via email and thinks this concept should have community input.
"A campground could be wonderful way to highlight our community, heritage and/or artists—particularly our local chainsaw carver, other artists and our local dinosaur—but should be completed with input from our local community," said Chrisp.
"I think it could work in conjunction with the Welcome Centre, but that's presently in Walsh, and I really think a Welcome Centre needs to be visible along the highway. I would be highly supportive of a campground on the east side of town, where there are dining and bar services, no close residents, more events and with an agreement with the Irvine and District Agricultural Society, there could be access perhaps to showering facilities and the canteen at the Sports Complex."
Council passed second and third reading of Bylaw 2021-22 Land use Amendment.