New Foremost councillor Hillis leads the way in unofficial election results
Posted on October 19, 2021 by 40 Mile Commentator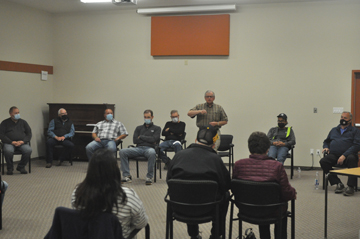 Commentator/courier PHOTO by Justin Seward From left, Stewart Payne, Larry Robinson, Tyson Ormann, Josh Kultgen, Bruce Hillis, Paul Leighton, Blake Klatt and Lorne Buis were all the Foremost candidates in attendance for the forum on Oct. 7 at the Community Hall.
By Justin Seward
Commentator/Courier
Bruce Hillis is the newest member of the Village of Foremost council after the leading the way with 148 votes in the unofficial election results on Oct. 18.
Incumbent councillors Blake Klatt had 141 votes, Lorne Buis (125 votes), Larry Robinson (111 votes) and Tyson Ormann had 104 votes to set the Village council for next four years.
Josh Kultgen received 93 votes, Paul Leighton (78 votes) and Stewart Payne (52 votes).
The top 5 names will form council and the mayor will be chosen by vote of council at the reorganizational meeting.
Congratulations to the new Councilors and thank you to all the Candidates for your time and commitment to the community.