Senator Gershaw's agriculture program a hands on experience
Posted on October 19, 2021 by 40 Mile Commentator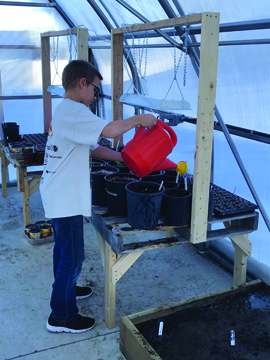 Photo Submitted by Scott Angle LEARNING GREENHOUSE ESSENTIALS:Branden Langeweg watering some vegetables in this 2019 file photo.
By Anna Smith
Local Journalism Initiative Reporter
As it moves into a second semester, the Senator Gershaw Greenhouse/Agriculture Program offers students a chance to get out of the classroom and into a chance to work with real life members of the agriculture industry.
The program had its first high school course in January this year. Participation with the program has been made into two classes, one for junior high students that takes place in the fall, and one in the winter semester for the high school students.
"This program was founded and led by Senator Gershaw teacher Cory Schiebelbein. The greenhouse was created in part to help solve a problem; water was running into our mechanical room every time it rained due to the slope in the landscaping," said Scott Angle, principal at Senator Gershaw School.
"Mr. Schiebelbein along with several students developed a plan to take the water shed into a dry creek bed, run it into a cistern and reuse it in a greenhouse. Over the last year we partnered with Medicine Hat College and Stigter's Greenhouses in Redcliff to design the our greenhouse to resemble a commercial production."
Students produced many types of vegetables and plants from seed to consumers including mini cucumbers, English cucumbers, peppers, tomatoes, lettuce, jalapenos, and multiple herbs. Students found price points for this produce and sold it to members within the community. They have been learning directly from Jeff Stigter of Stigter's Greenhouse, who has given multiple presentations to our students and helped to ensure success.
There's been great interest from the students in regards to the program, said Angle.
"We're not a very big school. And so every student in junior high will have taken the offset at some point the school year, and then the high school, we have brought a quarter of our population that we're in at one point, or that will be in it," said Angle. "The students that were in it really enjoyed it, it was really well received being in the inaugural year. The first time going through in January, a lot of students weren't  sure what to expect from it. But I think the students that went through it really found it worthwhile, that they go, great, more interested in going to our next January semester."
In June of 2021, with the support of a few local families, Senator Gershaw school created a student garden for all grades that plants out of the greenhouse were transplanted into, as well as new plants seeded. This school year is set to mark the start of a school wide compost program to educate students on diversion of waste and agriculture sustainability, said Angle, and the possibility of bringing in animals or more agriculture programming is being heavily considered.