Talons place third at provincials
Posted on October 27, 2021 by 40 Mile Commentator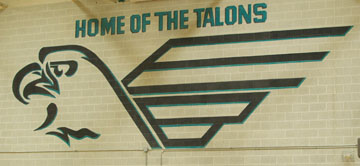 By Justin Seward
Commentator/Courier
Eight Eagle Butte High School Talons ran in the cross-country provincials in Red Deer on Oct. 16 and their performance paid off with a third-place finish in the 3A category.
The Talons finish behind first place Camrose Composite and second place Cochrane High School.
"It's great," said Talons coach Darryl Smith.
"We'll take it. Anytime you're in the top 3, you've got to be proud. What I'm most proud  of is all the Medicine Hat kids and area crushed it. From Crescent Heights to Eagle Butte to Hat High—maybe I don't need to give them as many props as I do."
A few feel-good stories came out of the day as the Talons' intermediate girl Kassidy Hart persevering through the 2.5 kilometres loop with cramping.
"She literally had her hand son her side, almost doubled over, and wouldn't quit," said Smith.
"She got 59th, but to me she got first—like that effort level was unconscious."
Senior boys' Justin Jager helped a runner from falling on the course and made sure  he was OK while finishing the race and earned an Alberta Schools Athletic Association pin for his efforts.
The junior boys shaved ran 15 seconds faster on the four-kilometre circuit on the significantly harder Red Deer course.
The seniors ran anywhere from a minute to a minute-and-a-half faster.
"They pushed it—so a couple of kids finished higher than they did at Zones," he said.
The highest finishing Talon was  intermediate boys 'runner Sam Schick  at 14th place and was only a mere 30 second shy from finishing in the top 10.
"They just understand what it means to put an effort in," said Smith.
Each Talon runner finished in the top 60 and the school placed eighth out of 350 plus schools  in the province.