Winter safety tips provide important reminders
Posted on December 1, 2021 by 40 Mile Commentator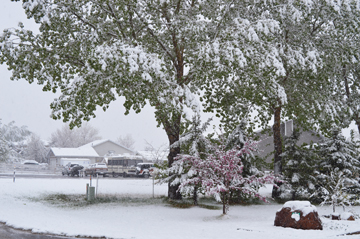 File photo
By Justin Seward
Commentator/Courier
The Cypress Courier spoke to now former Cypress County fire chief and emergency services coordinator Brad Straty on Nov. 19 about winter safety before his departure.
"I think with the season upon us here, one of the things our residents should be looking at is if they've  got fire places in their homes, stoves, or like warming stoves in their garages— they should consider cleaning the chimney to make sure that there's no soot build up and that the potential of a fire is less with clean chimneys," said Straty.
Straty recommends for residents to get their furnace checked and to check their smoke detector.
Straty said what fire services notices during the winter months and closer to Christmas is when the temperatures decrease is that people start using their wood-burning appliances and maybe have not checked to see that they're in good working condition or maybe the chimneys have a build-up of soot in them.
"The potentials of fire increase," said Straty
"I think the other thing is the overloading outlets and plug ins as we're plugging vehicles in or  plugging our Christmas lights in. So, it's then making sure that you've got proper breakers in place and checking the wires on your cord to make sure they're not frayed and can potentially heat up and cause fires as well."
While out on the roads, drivers should drive according to conditions.
"I think anybody that has to venture out, whether it's that short trip to go to work or even a longer trip let's say to Lethbridge or to Calgary— they need to make sure that they're wearing proper clothing, proper boots, good jacket. I always suggest you have a blanket in the vehicle with you that if it does stop and isn't running to keep it warm," said Straty.