Safety Buzz Campus accepting letters to Santa
Posted on December 14, 2021 by 40 Mile Commentator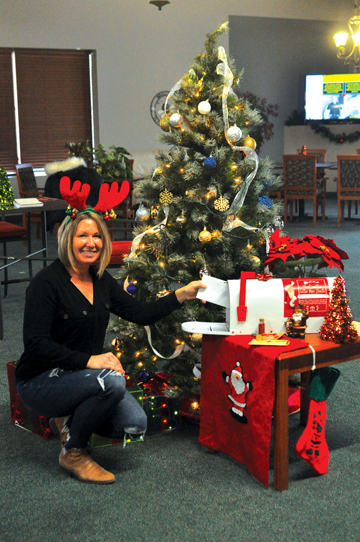 Commentator/Courier Photo by Justin Seward F&S Safety Buzz Campus co-owner Amy Zuk-Olsen delivers a letter to Santa in the mailbox.
By Justin Seward
Commentator/Courier
Dunmore's Safety Buzz Campus launched the Handwritten Letter to Santa initiative last week.
The initiative will allow for parents to drop off their children's letters to Santa and a $10 donation for the Women's Shelter in the Christmas mailbox at the Campus.
Richard Gale, creator of the Handwritten Letter to Santa initiative for Safety Buzz and hired by Santa, does not have his own family and wanted to find a way to give back, but was uncertain as to what to do.
"I figured the letter writing to Santa is probably kind of fun," said Gale.
"And I like the idea of being more vintage and antique. So, I had the idea of the wax and just some heavier weight paper—and while I was doing that, I found the Christmas tags as well. And I thought that a nice letter as a return to the little child and two Christmas tags from Santa would be an awesome little gift."
Parents will drop off the letters to the mailbox and at the end of the day  they will be collected a simple reply to the children.
Gale will just need to know the name, address and if parents wish, provide a special message for their child.
"We'll organize to have them delivered and I think we have some elves delivering them," said Gale.
Canada Post will be delivering as well and people can arrange to pick up return letters.
"You know, just being a little kid and seeing the letters I got— for me just seeing the higher quality paper and stamp on there—I just see that as being one of those small things that as a kid you're just going to remember year over year because it's just going to be so much different than what you normally get," he said.
Letters and donations can be dropped off at Safety Buzz Campus during business hours or dropped in the mail slot after hours.
Dec. 17 will be the last day for drop off.