Whitla Wind, now Alberta's largest, online since Dec. 1
Posted on December 14, 2021 by 40 Mile Commentator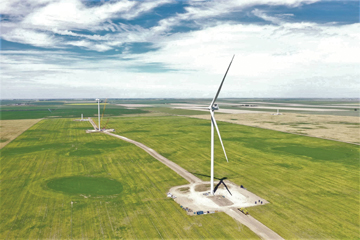 By Collin Gallant
Southern Alberta Newspapers
Capital Power's Whitla Wind farm is now the largest operating in the province, the company announced at its investors day on Dec. 2, as a $257-million expansion built in the County of Forty Mile came online on Dec. 1.
At the same presentation the Edmonton-based power producer says it will expand a central Alberta wind farm, add battery storage to Edmonton-area natural gas plants that are also the focus of carbon capture plans and close an acquisition of 20 solar projects in the United States.
"Capital Power continues its leadership position in the Alberta power market with the announcements we are making today at our Investor Day," said Brian Vaasjo, Capital Power's president. "Capital Power is on track to meet or exceed our sustainability goals and build a carbon-neutral future."
He called the outlook in the Alberta power market "robust," and supports planned capital spending of $500 million per year while extending annual dividend growth of 5% until 2025.
The Whitla Wind farm, south of Bow Island, first went into operation in late 2019, and last year was the site of new construction to bring total production capacity to 353-megawatts.
In the southeast region, Capital Power plans to complete the Strathmore and Enchant solar farms in the second half of 2022.
In new projects, it will double the capacity of the Halkirk Wind farm, in operation near Stettler since 2012, to 300MW at a cost of $274 million.
That project was approved in 2018, but the company will reapply with higher-capacity turbines in 2023, said Vaasjo, toward a completion date in late 2024.
The company is "repowering" two Genesee coal plants to burn natural gas. That complex produces 1,200-megawatts of base-load power, and the now $1.2-billion upgrades will include 210MW of battery storage capacity.
The site is also the focus of a recently announced partnership with pipeline company Enbridge to create a carbon capture agreement.