Hunter saw progress in 2021
Posted on December 21, 2021 by 40 Mile Commentator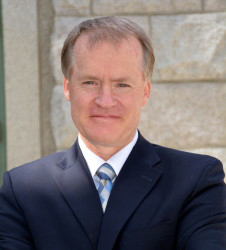 Grant Hunter Taber-Warner MLA
By Justin Seward
Commentator/Courier
Local MLA Grant Hunter felt the provincial government did not take any time off during 2021 and continued to work through fulfilling their promises to Albertans.
"As you know, when we campaigned the last time—in the last election— we had a very aggressive 372-campaign promises that we made that we're trying to be able to fulfill," said Hunter.
"And we've been working hard to try to be able to finish those up. I think it's over 93% done—which is good because we still have another year-and-a-half left before the next election. So, all-in-all, I think that considering how difficult it's been with the pandemic and dealing with pandemic—which basically eats up all the air in the room—I think that we've tried to keep working hard to do things that we promised Albertans—which is about jobs and the economy and pipelines is what our campaign promise was."
Hunter said the province is seeing good movement on the pipeline.
"In fact, I heard a stat the other day that we're shipping more oil products out of Alberta than in any other time in our history," said Hunter.
"We're firing on all cylinders there—that's a good sign. In terms of jobs and economy, we've added over the last three months 60,000 jobs to the economy— so that's doing well. I think in fact, we are actually this year and we're slated for next year to be the fastest growing economy in Canada."
Hunter believes that the government's responsibility is to stay away from hard working Albertans and doing so through red tape reduction initiatives, corporation tax reductions and make room for more opportunity in Alberta.
With the uncertainty of the Delta variant's impact in the summer, Alberta still opened for summer and a move Hunter admits in hind sight was too soon.
Hunter said in rural Alberta it was very much appreciated and embraced, whereas in the cities it was not appreciated.
"And that's been the situation with this whole pandemic, is it's been very different," he said.
"If you talk to people from the cities versus rural Alberta—they just have a very different perspective on how we could proceed and what the restrictions should be. So that opening up for summer—the Premier has been apologetic— I've heard him apologize multiple times, saying in hind sight we shouldn't have opened as quickly as we did."
Hunter broke down the province's COVID response between 2020 and 2021.
"Mistakes were made—but again we were trying  to build the ship as we were launching," said Hunter.
"And again, every jurisdiction in the world was trying to build a graph and figure it out— well what is our responsibility? How do we do this? How do we effectively make this work?"
Hunter highlighted in the second year of the pandemic that health care capacity became an issue when the Delta variant made more of a presence in the province.
"We went from a fairly robust capacity to be able to deal with a spike to having quite a diminished ability to deal with that spike," said Hunter.
"One of the major reasons for that was that this has gone on a whole lot longer than anybody expected. So, you had a lot of health care workers that just got burnt out— that in terms of the ability to deal with the capacity, a lot of those ICU nurses, they left— they just went to  other areas that were not so demanding— and it really put major pressure on our system to be able to address that spike."
A positive that came of this year was the July announcement of the 60,000 irrigated acre increase and the 10-kilometre expansion of the Chin Reservoir.
"Which is going to be absolutely massive in terms of growth for our area," said Hunter.
"So, those expanded irrigated acres are a part of a major push we have in terms of building out … that corridor between Lethbridge and Medicine Hat— we want that to be the agri-food processing corridor of Canada."
Alberta continues to try and build a strong K-6 curriculum for its students.
"We're certainly trying  to work hard on doing what we can with building a strong Kindergarten to Grade 6 curriculum for Albertans," he said.
"The curriculum has certainly taken a lot of heat—there (have) been a lot of people that said some fairly negative things about the curriculum. I've looked through the curriculum— there's a lot of really good in there. There (are) some things that need to be tweaked but this is why we're beta testing it. Well, we are beta testing it with Albertans through classroom instruction and so forth. So, as we get that in-the-trenches feedback, then we will tweak what we need to tweak."
He thinks there will be some strong job growth number and further exploration in to how to deal with COVID in 2022.