BIFD recognizes Knibbs for his service
Posted on December 29, 2021 by 40 Mile Commentator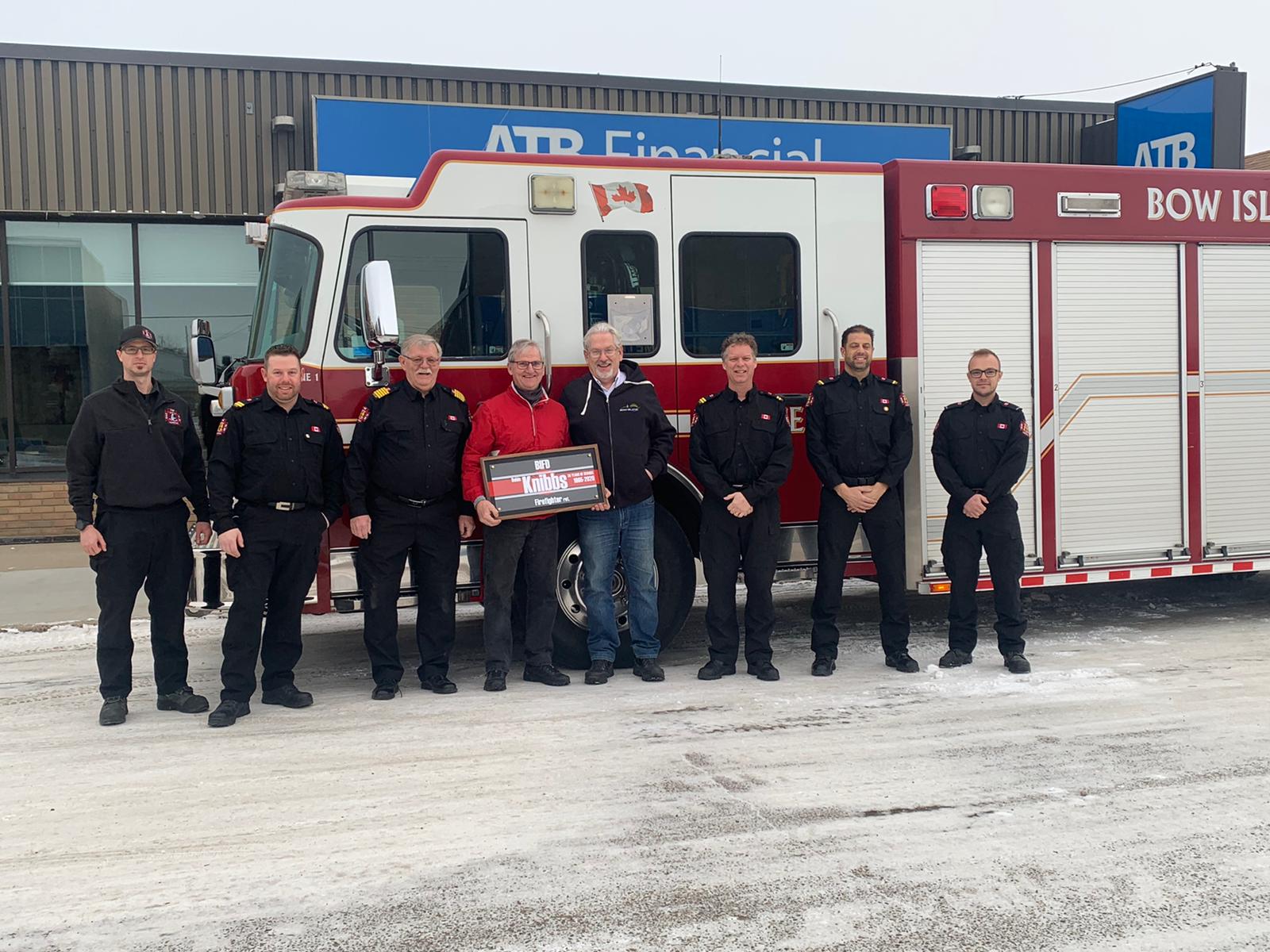 The Bow Island Fire Department and Mayor Gordon Reynolds made a surprise visit to TRU Bow Island Hardware to present Robin Knibbs(middle( with his retirement gifts on Dec.18.
By Justin Seward
Commentator/Courier
It was due to COVID-19 challenges, that the Bow Island Fire Department had to wait a year to deliver Robin Knibbs his retirement plaque, service pins and a watch after 35 years of service in the department after he retired in December 2020.
Bow Island fire chief Blaine O'Donnell was joined by Mayor Gordon Reynolds and other members of the fire department with the fire truck on Dec. 18 at TRU Hardware Bow Island Hardware Ltd.,, the store Knibbs owns, and surprised him with the recognition.
"It really touched me," said Knibbs.
"And to see most of (the) young guys there—like our fire brigade is in really good hands with the people we have now and they're dedication, most of them, is just second to none right now."
Knibbs said his time with BIFD was fun.
His career started out in 1985 at the old fire hall—which currently houses the Chamber of Commerce office— with  his father Bert being chief at the time before Wayne Gilbertson took over from him.
Knibbs also had a 15-year stint as secretary and treasurer for the fire department, he ran the ambulance in a time where the town had ownership of the emergency vehicle and participated in various courses.
"You have to really dedicate to take them all and the young guys want to go—just like when I was young and that first started—you're all gung-ho and you want to do everything. And as you get older, you get more complacent and sort of set in your ways," said Knibbs.
"I just found it was time. My dad did 35 years and I'm happy I did the same amount and I think from one family we've done 70 years for the community."
Small-town fire departments are strictly volunteer and Knibbs remembered when he first started when there was only a few firemen that had fire phones.
"They would receive the call from there and there was a button on their phone and it sounded the siren and then we would leave our jobs and run to the fire hall and do our job there then and think nothing of it," said Knibbs.
The most rewarding part for Knibbs was receiving the thank you's and being recognized as a volunteer firefighter and ambulance driver as it made him feel warm.
He termed the changes in firefighting as "more sophisticated."
"There's more to do," he said.
"We used to do just strictly curbside firefighting when we first started out—we had maybe one or two breathing apparatus (BA) units. Now the fire department has 20 or so BAs with extra bottles and stuff like that. You're donning all that stuff before you go in. When we first started out, we just stood back or if we had to go in a little bit, we'd go in the door; but we had no breathing apparatus back at the time."
Knibbs said there's just more protocol now of what you can and can't do.
"Robin was very faithful to the department," said O'Donnell, who started the same year as Knibbs.
"He didn't miss very many practices … He did whatever was asked of him."
BIFD also recognized O'Donnell's predecessor Kelly Byam for his 30 years and Ross Brown for 25 years a week before their retirement.