Chainsaw Spirit Gallery a dream of Cole's
Posted on December 29, 2021 by 40 Mile Commentator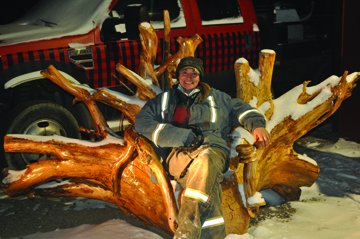 Commentator/Courier Photo by Justin Seward Marina Cole has followed her dream by opening up Chainsaw Spirit Gallery in Irvine.
By Justin Seward
Commentator/Courier
Marina Cole has made a name for herself with her wood carvings and now has followed out a dream by opening Chainshaw Spirit Gallery in Irvine last month.
Cole, who is better known through her business name of Chainsaw Spirit, opened the retail outlet where she not only sells her woodwork, but products from many other local artisans.
"It originally had come about because I was  wanting a place to put my own carvings, but also help draw people to our community because this community is what grew me I guess," said Cole.
"It's been a dream for a long time. I've always wanted to do something like this. I just didn't know what it was until I started carving."
Products that can viewed and purchased include leatherwork and antlers to cookies in a jar and more woodwork.
"There's so many things in here that you would have never known actually came from this small little area,—this community, Medicine Hat, everywhere" she said.
Cole said the support from the community has been mind-blowingly amazing.
"I want them to feel all the love that was put into every piece that's in here," she said.
Cole agreed Chainsaw Spirit Gallery is a step to something much bigger for the art community.
Her hope in the summer time is to have carvers for competitions and have people stop by and learn about chainsaw art.
Chainsaw Spirit Gallery is located at the corner of Highway No. 1 and Wilhelm Street in Irvine.
More information can be found on Chainsaw Spirit Facebook and Instagram pages and http://www.chainsawspirit.com.
Hours of operation will be posted on the Facebook and Instagram pages.