Yuk Yuk's Comedy Night coming to Bow Island
Posted on January 18, 2022 by 40 Mile Commentator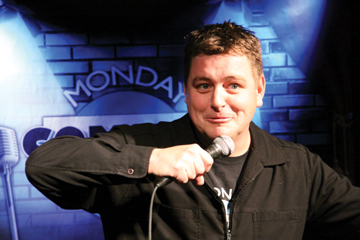 Kevin Stobo
By Justin Seward
Commentator/Courier
If you want a night full of entertainment and laughter from a couple of veteran comedians, the Bow Island Multiplex is the place to be  next month.
The North Forty Mile Tourism Society will be hosting a Yuk Yuk's Comedy Night which will bring headliner Kevin Stobo and Charles Haycock to town and the event's proceeds will go to the community garden boxes project.
"Kevin Stobo and Charles Haycock are two veteran comedians that have performed on the country's biggest stages for different festivals, CBC, different comedy festivals —including Edmonton Comedy Festival, the Best of Just for Laughs," said Alex Ross, Yuk Yuk's  Stand-Up Comedy national sales director.
Stobo started his comedian career in Banff right out of high school as he won Edmonton's Funniest New Comics.
Stubo may also be recognized through hosting duties on Global TV's "Inside Entertainment" and Sun Network's  "The DVD Show", TV Tropolis "Where are They Now" and "Movie Reviews with Kevin Stobo."
He has also had the pleasure to interview movies stars such as Eddie Murphy, Adam Sandler and Ben Affleck to name a few.
"One of the most sought-after headliners in the country—especially out west," said Ross.
Ross said Stobo has been headlining Yuk Yuk's across North America for decades.
"Kevin is blue collar with a lot of charm," said Ross.
"He's very every man with great perspective on the funnier things in life."
Ross said Haycock has a very individual delivery.
"He's been considered like a young Steven White—he's a famous comedian," said Ross.
"You know, kind of slow and steady, but the punch line is always dynamite. Charles really is subtle, yet uproariously funny."
Hancock has attended the Winnipeg Comedy Festival, Halifax Comedy Festival, Sudbury Comedy Festival, a world-class yo-yo performer and has opened form Alonzo Bodden and Bryan Callen.
"We're still planning it because the community needs something," said Terrie Matz, chair of the North Forty Mile Tourism Society.
Yuk Yuk's Comedy night is on Feb. 26 (7p.m.) at the Bow Island Multiplex.
The event will be following the REP program.
Tickets are $40 and can be purchased at https://www.eventbrite.ca/e/yuk-yuks-comedy-night-featuring-charles-haycock-kevin-stobo-tickets-201044047157?fbclid=IwAR2cCX7OqeTq6FORAWhHMeGSMpP_e6N4PUC2jFIrtUMPT4xF_Wf-6LHJ7Dk