Government of Alberta hosting public engagement on draft K-6 curriculum
Posted on February 1, 2022 by 40 Mile Commentator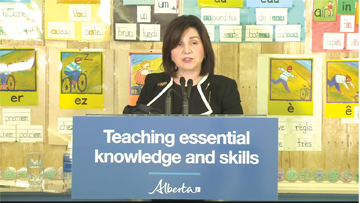 Screenshot photo Alberta Education Minister Adriana LaGrange
By Justin Seward
Commentator/Courier
The provincial government is committed to public engagement on the draft K-6 curriculum over the next month.
The public engagements will allow Albertans opportunities to provide feedback through regional online sessions.
"Alberta's government promised a year-long consultation process with multiple ways to provide feedback on the draft K-6 curriculum," said Adriana LaGrange, minister of education.
"These new sessions will enable Albertans to have focused conversations and share specific, constructive feedback on the draft blueprint and subjects they are interested in. I encourage Albertans to participate and have their say. The steps we are taking now to listen to additional input will help ensure our elementary students are learning from the best curriculum possible."
The sessions will be held from Jan. 31 to Feb. 28 across all five regions of the province.
Sessions will focus on small group conversations that will be hosted by independent engagement specialists.
"During each session, the draft K-6 social studies design blueprint or one draft K-6 subject will be considered and discussed so Albertans can provide insightful feedback," as read in the press release.
Albertans can sign up for notifications about upcoming engagements and register for sessions at alberta.ca/curriculum-have-your-say.aspx.
The province will take in all the feedback from the engagements and clasroom piloting this springca K-6 curriculum.