APEX Alberta launches Community Innovation Connector
Posted on February 9, 2022 by 40 Mile Commentator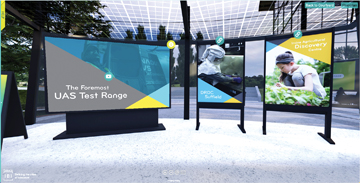 Commentator/courier PHOTO submitted by Community Futures APEX Alberta launched the Community Innovation Connector to connect regional entrepreneurs to innovation through a virtual online portal on Feb. 1. There are areas of the CIC that include rural connections such as the Foremost UAS Test Range, DRDC Suffiled and Irvine Agriculture Discovery Centre.
By Justin Seward
Commentator/Courier
APEX Alberta along with its partners officially launched the Community Innovation Connector on Feb. 1.
The CIC is an openly accessible 360-degree, interactive, virtual space that has an online portal to connect entrepreneurs, industry, inventors and students to innovation and entrepreneurship programs, advisers and supports.
CIC will provide an online meeting platform for hosting virtual conferences and events.
The CIC is one project APEX Alberta had implemented to support the Regional Innovation Network (RIN).
Tracy Stroud, APEX RIN manager, says, "Multiple organizations have come together and given their time to this initiative. The goal is to create awareness of the truly unique and innovative assets for entrepreneurs that can be found in southeast Alberta."
CIC, through RIN, links together projects, programs, advisers and success stories across the southeast region.
"Community Futures is very excited for the launch of the Connector; this project is a great example of multi-stakeholder regional community collaboration, and I would like to congratulate the APEX team and partners on the development of a valuable community tool," said Sean Blewett, Community Futures Entre-Corp Business Development general manager.
The Connector project has benefited from the support and engagement of the City of Brooks, Municipal District of Taber, the Special Areas Board and Verge Economic Development, serving the Counties of Cypress and Forty-Mile.
"I mean it's always been very clear that we recognize during the process that many of the technology assets and opportunities actually exist in the region," said Blewett.
"So whether you consider things like the Foremost Unmanned Aircraft System Range to both agriculture facilities in Brooks, up toward Hanna, the whole region has an excellent collection of both technology providers but also people in that technology space. We wanted to ensure that this was from a regional perspective and really we want to create an opportunity or hub where because we are a fairly distant region (and)where someone say in Foremost could collaborate with someone in Brooks."
The CIC has sections for Brooks, Taber and the regional communities.
The other community partners included Community Future Entre-Corps Business Development, Medicine Hat College and primary funder Alberta Innovates.
"MHC is proud to serve the region, and we look forward to building and sustaining relationships through the Connector. It is an intriguing and informative way to learn about our region and gain access to the people and services available to build vibrant, sustainable communities for everyone, said Mark Keller, MHC's executive director of advancement and community relations.
People can visit the Connector at www.innovationconnector.io.