Reduction of fertilizer use raising concerns in ag industry
Posted on February 9, 2022 by 40 Mile Commentator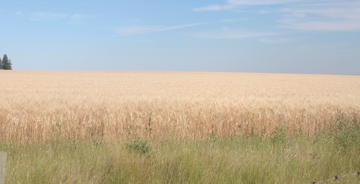 By Kendall King
Southern Alberta Newspapers
Details regarding the federal government's proposed 30 per cent emission reduction target for fertilizer use are yet to be released, as Canadian producers and agriculture stakeholders raise concerns about the impact the reduction could have on yield.
Though voluntary, the total, or absolute reduction of emissions produced by fertilizer use has become a concern for many in the agriculture industry.
"They've set it as a voluntary target but as industry, and as the agricultural sector, we take it very seriously when the government says, 'We expect you to do this,' because we know if we're not achieving the expectations in the time frame, it's quite possible the government decides to regulate," Karen Proud, president and CEO of Fertilizer Canada, told the News.
Proud and her association are not against emissions reductions, but want a more detailed outline of how the target will be achieved without decreasing current rates of production.
"When you take an absolute stand, it means … total emissions from the use of fertilizer have to be reduced by 30 per cent of 2020 levels. That puts a cap on the amount of fertilizer you can use … which is going to have an impact on your productivity," said Proud. "In Canada, we've already become very efficient so there's not a lot of room to move in reducing the use of fertilizer."
Stephen Vandervalk, Alberta vice president for the Western Canadian Wheat Growers Association, is frustrated by the additional requirements producers will have to meet as a result of the target.
"I can't even wrap my head around what it means to my farm," Vandervalk told the News. "It's pretty hard for us in agriculture to do more … We need fertilizer. It's kind of like asking a manufacturer to cut their power by 30 per cent – except it's not putting out widgets that you can take or leave, we're talking about food."
Vandervalk fears a decrease in the amount of food produced by Canadian farmers and the impact it will have globally.
"This will totally affect how much food is grown," he said. "It will increase prices in the store by a drastic amount. (In addition), other countries which need to import food, would not have access to that food because we're not going to be growing it."
In a statement released to the News, the government confirmed it's heard and understands producer concerns and is working with industry stakeholders to develop an approach that benefits both sides.
"Over the summer of 2021, Agriculture and Agri-Food Canada engaged virtually with the provinces and territories and 22 agriculture producer and commodity associations. The department also received written feedback from 12 stakeholders comprising a mix of provincial and national agriculture organizations," the statement read. "AAFC will soon publish a Fertilizer Emissions Reduction Discussion Paper, (which aims to) stimulate discussion and to lead to a shared understanding of the opportunities, barriers and challenges associated with achievement of the fertilizer emissions reduction target."
One of the main topics industry leaders, like Fertilizer Canada, would like to discuss is sustainable farming practises.
"One of the things we've raised with the government is even in their accounting of what the emissions levels are, they don't actually take into account the farming practises, like the 4Rs, within Canada," said Proud. "So, they're only looking at the amount of fertilizer used, not how that fertilizer is being used. We know from scientific studies that Canada is actually very efficient in its use of fertilizer."
Proud hopes the Fertilizer Emissions Reduction Discussion Paper will shed light on the government's emission reduction strategy.
"The announcement that came out at the end of 2020 took everyone by surprise," said Proud. "There was absolutely no consultation before the government announced it … We need to make sure that all stakeholders are sitting at the table and discussing a practical and pragmatic approach."
AAFC stated, "The Government of Canada will continue working together with industry to identify solutions (and) contribute to meeting Canada's 2030 GHG emissions reduction target and achieving zero-net by 2050."