BIHC jobs garnered towards young job seekers
Posted on February 16, 2022 by 40 Mile Commentator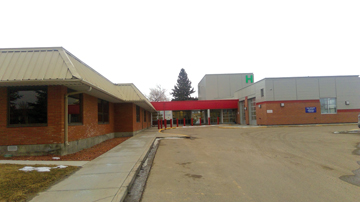 By Justin Seward
Commentator/Courier
The Bow Island Health Centre has job openings through Alberta Health Services that may entice future young employees in the Nutrition and Food Service department.
The two  part-time and casual  positions are in the Nutrition and Food Service include two main shifts of 6:30 a.m.- 2 p.m. and an afternoon shift of 4- 7 p.m., seven days a week and shifts are set on three-week schedules.
The three-week set schedule is a combination of shift scheduled throughout a three-week rotation that adds up to hours filled in the position.
"Alberta Health Services is proud to have been recognized as a top employer for diversity and the contributions of our young employees," said Kami Norris, nutrition food services supervisor for Bow Island and Taber.
"When young people start at AHS, they have the opportunity to make an impact on the lives of fellow Albertans every day. It gives them direct experience working in a healthcare setting, building skills working with complex and diverse teams in a fast-paced setting."
Tasks under the food services supervisor include preparing, handling, apportion and package food and beverages. Additionally, the successful candidates will have to assemble trays in the kitchen, deliver meals to patients and pick up.
"In addition to safely operating and cleaning industrial food service equipment, they are required to adhere to safety, sanitation and food preparation standards in accordance with AHS policies and guidelines," said Norris.
There is potential for these jobs to be appealing to high school-aged youth and allowing them the opportunity to see firsthand all the different career paths in health care.
"The pandemic has resulted in more people considering careers in healthcare but working directly in a healthcare facility gives them exposure to the full scope of positions that keep a hospital running," said Norris.
However, trying to fill this these types of position does not come without its challenges in rural Alberta.
"One of the challenges in hiring in rural areas is a smaller candidate pool. Also, many people are looking for full-time work. However, even though we only have part-time positions available, there are many opportunities to pick up extra hours," said Norris.
Interested applicants can apply and find more information at careers.ahs.ca/jobs/search/70393519
AHS will be having a virtual career event on March 16 from 1-2:30 p.m.
Registration can be done at https://form.jotform.com/AHSCareers/foodenvironmentalservices or by email at Careers@ahs.ca.