Irvine U18 Bulldogs teaching self-respect
Posted on February 16, 2022 by 40 Mile Commentator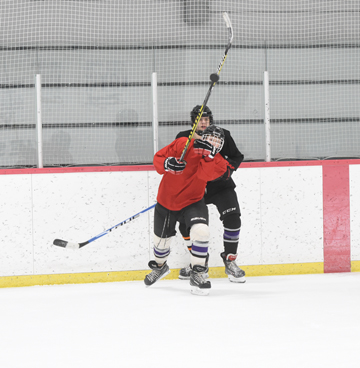 Commentator/Courier Photo by Justin Seward Irvine Bulldogs U18Õs Deegan Klimosko (red) tries to knock down the puck as Makai Howes (black) looks on during a neutral zone transition game at practise on Feb. 8.
By Justin Seward
Commentator/Courier
The Irvine Bulldogs U18 hockey team has taken the game to whole new level with an ideological approach that has reached a point where other teams have been watching and contacting the club with interest of learning more on how it works.
Head coach Richard Spencer has been tasked with coaching the first U18 Irvine team in 10 years and his expectation to build  a culture and leadership group that respects fundamentals of wearing the Bulldog jersey.
"From there the boys went out and they had goals within the week to bless someone in the community," said Spencer.
"Then we get into the development of the name on the back of the jersey—blessing somebody inside the household—getting the intrinsic values of the people that makes this something that they can be a part of. So, therefore, they bless someone in a household and sometimes it's hard to look at your family members because they're the quickest ones we get angry at."
Spencer says it's about learning self-control.
"The question is how do you love yourself and how do you take care of yourself?," said Spencer.
Spencer ask questions such as can you think of anything positive someone said, and none of players could stick their hand up and then the question was asked on how many negative things someone can remember and players hands shoot up.
"So now the reflection of how they view themselves or how society teaches them to see themselves, or equating success to points or to wins— that is something that is not intrinsically valued to hockey," said Spencer.
"What makes them drive the force to why you play hockey?"
He says if they can create an environment that allows them to grow and give them the successes within themselves, you have a team that wants to battle.
The culture change is the kids are not allowed to swear and show disrespect and the importance of wanting to be at the arena.
"This becomes a safe zone for them to grow," said Spencer.
"But that comes with the coaching staff and that leadership group believe in the system and the culture and seeing the results of it, where now other teams are asking us to come work with their teams because of how these boys are being recognized for the value of who they are."
Team captain Blair Herrmann says Spencer's approach has taught them so much as men and young adults to respect themselves.
"I think it's made me a stronger leader (and) a better person," said Herrmann.
"(At) the first practise he said I will not have any swearing in the dressing room, I will have no bad talk about women and we will always have positive attitudes."
Five push-ups were distributed to players who missed the net or swore.
"It's just building us stronger and more respectful," he said.
Colbin Unreiner says it's a lot different from a lot of other teams.
"He's teaching us that you come here every day, you put in 110 per cent —it's worth everything at the end," said Unreiner.
Spencer's ideology has taught Unreiner that family comes first and then yourself.
He has listened to what his coach is preaching and has combined that with what his brother, Quintin, has passed down from his junior A level experience.
"My brother taught me you have to be very fast with the puck—he's like you don't have time to think— and Rich has taught me to be more calm (and) you don't always have to pass the puck, and just be more calm with it and look for a pass instead of throwing it away," he said.
The Bulldogs sit atop the standings with a 12-1-0-3 record.