Etzikom Easter Egg Hunt bigger than ever
Posted on April 13, 2023 by Ryan Dahlman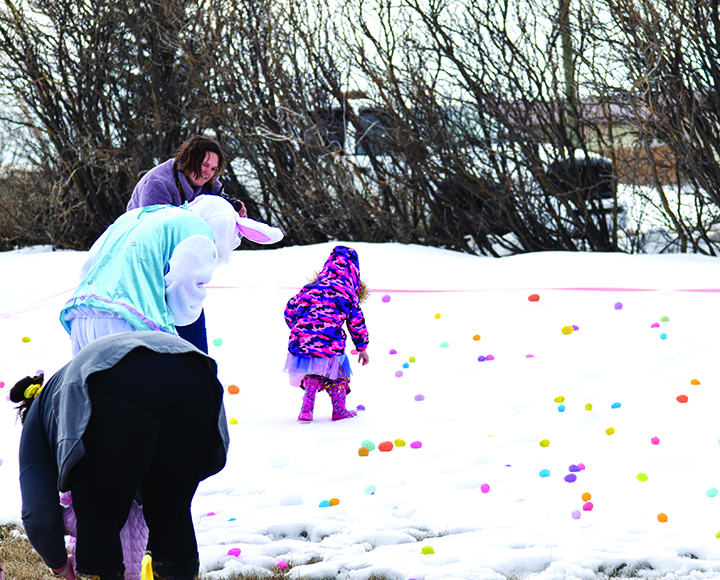 By Anna Smith
Commentator/Courier
Colourful plastic eggshells stood out against the snow in Etzikom for their annual Easter Egg Hunt on Saturday.
Overall, the event was a great success, said Rachel Stromsmoe, Etzikom Playgroup President. 
"We weren't sure if the weather was going to cooperate for us, but it turned out to be a beautiful morning for an egg hunt! We had cookies, squares, juice, and hot chocolate prepared by the Etzikom Playgroup members, there was a colouring and craft station, and of course an appearance from the Easter bunny," said Stromsmoe.
While the hunt has only been on for four years now, it's seen growth with each iteration, and this has been their biggest yet.
"This year we had over 60 kids participate in our event which is more than last year's 50 participants," said Stromsmoe. "This is our fourth year to host a Community Easter Egg Hunt in Etzikom, and each year we have had more kids than the previous year."
This year, in addition to mini eggs and individually wrapped chocolate eggs, the playgroup decided to add more non-chocolate, small toy prizes, and raffle prizes, said Stromsmoe.
"We divided the groups into ages 0-3, 4-6, and seven-plus and we had over 1300 eggs between the three age groups," said Stromsmoe. "We have made a few tweaks since the initial egg hunt in 2018, but overall I think the way we organized the event this year will be the blueprint for future years."
"This event was put on by the Etzikom Playgroup and made possible by fundraising that we do throughout the year including our Spring Flower Fundraiser that is currently going on. We also partnered with the Etzikom Recreation Association, the South East Alberta Agricultural Society, Forty Mile FCSS, the Etzikom Museum, and the Foremost Chamber of Commerce," said Stromsmoe. 
The hunt was originally an idea put forward by some of the moms in the group, and with the support of the community, has become a fixture of springtime for the playgroup.
"I think it's important to have fun, community events throughout the year in our small town. It's a chance to gather and build a stronger community," said Stromsmoe. "It brings people in and we get to utilize our community hall and playground. It's a fun social event and it makes you realize that even though we live in a small community it doesn't mean we can't still have the same type of events that are hosted in larger towns."
"We'd like to thank the community for their support and all the families for coming out to Etzikom and we hope to see everyone again next year," said Stromsmoe.